Overtime: In Defense of Aaron Long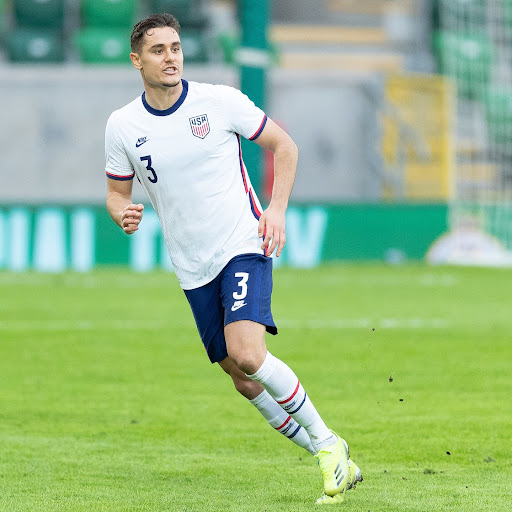 There may not be a more villainized figure in all of American soccer right now than New York Red Bulls and United States Men's National Team (USMNT) center back Aaron Long. Long, who started in the USMNT's disappointing 2-0 loss to Japan on Thursday, consistently finds himself as the target of criticism and negativity by American fans online. While his play in a United States jersey hasn't been great recently, Long has been turned into somewhat of a scapegoat by the fans. When the entire USMNT squad is playing poorly, it is interesting to examine why Long is public enemy number one.
For USMNT supporters, Long is the perfect target. He is a 29-year-old lifetime MLS player whose prospects of playing in Europe have slowly faded away. A player once targeted by West Ham United in the Premier League, Long tore his Achilles in May 2021, forcing him to miss almost an entire year of action. Before the injury, Long was a locked-in starter for the USMNT. He appeared 14 times for the US in 2019 and started in the Gold Cup final that same year against Mexico. The injury caused him to fade off of many fans' radars, especially when young prospects in Europe like Chris Richards, Erik Palmer-Brown and Mark McKenzie began to see consistent playing time overseas.
So when Long returned to the USMNT fold immediately following his recovery in March of this year, many fans assumed he would be a depth piece to compliment the team's rising stars. That's what he was at first, coming on as a late substitute against Panama and Mexico in that March window. But when regular center back Miles Robinson went down with a similar Achilles tear in May, a starting position opened up for the foreseeable future. As of now, it seems like Long is head coach Gregg Berhalter's choice to fill that void.
To many USMNT fans, this decision is blasphemous. How can Long, who applies his trade in MLS, keep players like Richards, Palmer-Brown and McKenzie on the bench? For one, the USMNT center back pool is not as deep as people think it is, especially when players like John Brooks seem to be permanently exiled from the program. Palmer-Brown hasn't impressed when he's appeared in a USMNT shirt, nor has McKenzie. As for Richards, he probably deserves a chance to start alongside Zimmerman, but he missed this current window due to injury. The same can be said of Celtic's Cameron Carter-Vickers, who also had to pull out of the squad at the last minute. The best quality is availability, and Long is one of a few capable center backs that are available right now.
Even with that being said, Long's play for the USMNT admittedly has not been great as of late. But neither has the entire team. It's not like Long was the only one playing poorly against Japan on Thursday. Tyler Adams and Weston McKennie made numerous mistakes in the midfield. Gio Reyna struggled to find his way into the game. Sam Vines looked out of place at left back. To single out Long after as poor of a performance we saw Thursday from the entire squad is irresponsible.
In addition, the system that Berhalter currently employs does not play to the strengths of his team, and that applies to Long as well. Berhalter wants him to be the "speed" next to the slower but stronger Zimmerman. That's fine, but it's what the USMNT tries to do in possession of the ball that becomes problematic. Long is not a ball playing center back, yet he has to be in Berhalter's style of play. With the midfield as absent as they were on Thursday, both Long and Zimmerman were forced to make uncomfortable passes in tight windows, leading to numerous giveaways from both. If Long and Zimmerman are to be the starting center back duo, the midfield has to be more active than they were against Japan or the entire USMNT tactical system will fail.
There isn't a single fan that is clamoring for Long to start at the World Cup in Qatar. Even his biggest supporters recognize his shortcomings. But to USMNT fans, Long represents someone who is "holding the program back." He is an older player who is theoretically blocking younger, more exciting talent from shining on the national stage. He represents the perceived favoritism that Gregg Berhalter shows MLS players like Cristian Roldan and Jordan Morris. While these things aren't necessarily true, Long has become a symbol for the anti-MLS portion of the USMNT fanbase. Unless he contributes a signature moment at the World Cup, expect him to remain the current scapegoat of American soccer for the foreseeable future.