Fordham's ACE and FUPAC Host Mixer for Students
Emma Kim, Assistant News Editor
October 5, 2022
The Fordham clubs Asian Cultural Exchange (ACE) and Fordham University Philippine-American Club (FUPAC) held their annual mixer on Sept. 30 in North Dining. The ACE-FUPAC mixer was planned by both clubs' e-boards, including the president of ACE, Arthur Liu, FCRH '23, and the president of FUPAC, Jon DeFelipe, GSB '23.
ACE is a student-led club that was founded in 1999, and their primary purpose is "to enrich the student body about the social, cultural, historical and intellectual pursuits of the Asian community."
FUPAC is also a student-led club, and its purpose is to "promote Filipino culture throughout the Fordham University community by sponsoring cultural, and charitable, social activities." As a club, they seek to "provide opportunities for members to integrate with the greater Fordham community, building bridges through cross-cultural events."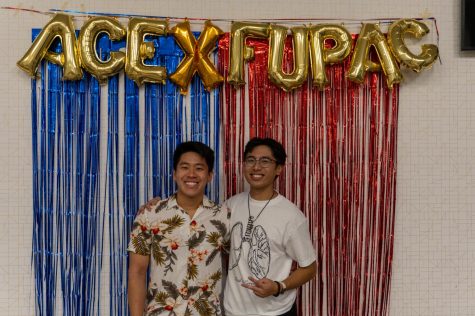 "The primary purpose of the FUPAC-ACE Mixer is to allow the freshmen of both clubs to mingle with one another and make new friends," explained Liu. "By virtue of being the two largest AAPPI-identifying clubs on campus, ACE and FUPAC have always been very close to one another, and this mixer only serves to solidify that bond with each passing year."
Along with meeting new people, both clubs provided food for the event. There was a mix of Chinese and Filipino food, including different types of Szechuan-style foods, noodles, fried rice and vegetables.
One of the highlights for DeFelipe was the food and connections that were made. "What makes the ACE-FUPAC mixer stand out to me is the feeling of family we're able to foster in such a big event," said DeFelipe. "Food is one of the best ways to bring people together, and every year it's become a highlight of mine, being involved in a cultural club. Also, it's not every day I can eat Filipino food, being away from home at Fordham."
After food, everybody had an opportunity to participate in different games and activities that were planned by the e-boards. One of the games was limbo, with DeFelipe becoming the new reigning champion after many competitive rounds.
Tuong Bui, FCRH '25, the winner of limbo from ACE's last event — Dynasty — and runner-up this year joked about losing their title. "He ended my professional limbo career. I think he has great prospects ahead of him."
Lauren So, FCRH '25, enjoyed the event on Friday after a week of classes. "I had a lot of fun trying new foods and meeting new people from different backgrounds. It was a really nice way to just unwind and spend some time playing lighthearted games like limbo after a super stressful week of school," said So.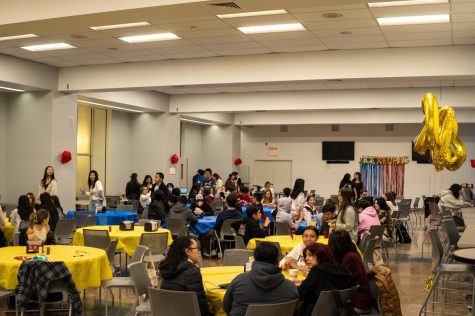 Kiki Chen, GSB '25, one of the social media coordinators of ACE, believes the event is a great opportunity to connect the two clubs. "The event is important to show the unity amongst our campus cultural clubs and to share our cultures with one another. It was really an event that allowed many of us to meet new people, bond and to have fun as a big family," said Chen.
Alex Tamsi, FCRH '24, the treasurer of ACE, also loves celebrating and highlighting "the melting pot of Filipino and Asian American heritage."
"I love this event a lot — and these two clubs more generally — because I've been able to meet people with different experiences," said Tamsi. "It's really expanded my idea of what we perceive to be Asian and what it means."
Overall, the ACE-FUPAC mixer was a successful night and a great representation of both cultures. It also it gave students a chance to learn more about the Asian American and Filipino cultures while also forming lasting bonds with their fellow students at Fordham University.