Mac Miller's Album "Circles" Immortalizes His Talent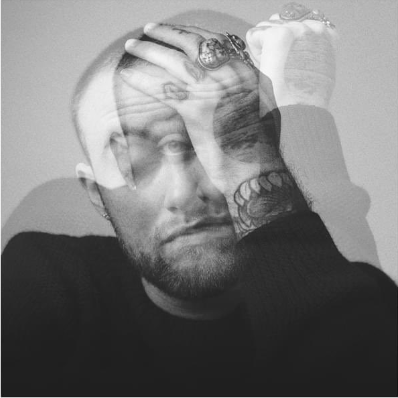 There are few albums that draw me in from the first single. I often have to listen to an album in its entirety to truly understand its tone and the mood. That was never the case for me when I heard the first track off of the late Mac Miller's posthumous album "Circles."
What connected me to Miller's work the most was his raw emotions that would come alive on his tracks. Through rap and R&B, Miller explored his mental health struggles, personal relationships and his view of the world, tastefully and creatively.
Meant to be a companion to his previous record breaking album "Swimming," the project was supposed to be completed in a trilogy, with the first two albums coming together to form "Swimming in Circles." "Swimming" was one of my favorite albums at the time of its release as it showed Miller's ability to step into a different genre of music that he was interested in exploring: R&B.
Miller's guitar hooks and plucky instrumentals, combined with orchestral instrumentals fused together to create a perfect symphony. The album just felt right from the start, from the opening song "Come Back To Earth" to the spacey and plucky closer "So It Goes."
The album "Circles" holds such bittersweet memories as it was released the day after my 18th birthday. I am one of the biggest Miller fans, and when he passed a few months prior, I was in a state of shock. After "Swimming," I was expecting so much. His growth continued to shine on every new project and I was anticipating going to his tour and getting to hear these songs I've loved live.
His lead single from the album, "Good News," captivated me instantly. I remember shedding tears listening to my now-gone favorite artist, listening to the subject matter of loneliness, depression and more importantly, hope. The song inspired me so much to remember that there will always be tomorrow, that I got the title tattooed on my arm. A permanent thank you to the artist that changed my life.
"Circles" opens with quite possibly one of my favorite opening lines, "Well, this is what it looks like right before you fall." A nonchalant opening especially after what we as the listener knew of Miller's fate. It is in the first song that we learn the whole purpose of the album — Miller being stuck in a circle he cannot escape from. For many, the circle is a metaphor for the struggles we face everyday. It's a painfully relatable metaphor that so many can relate to.
But while the subject matter of the album remains bleak, the instrumentals bounce. There's a clear funk undertone picked up by Miller on the piece to balance out the weighty lyrics. "Complicated" is a perfect example of this. From the high synths to the snappy drum beat, it's hard to remember the song as a reflection of how complicated and disastrous his life is.
Other songs like "Blue World" and "I Can See" follow this same pattern. Miller experimented a lot with this style throughout the years, even releasing jazzy styled albums under a pseudonym "Larry Lovenstein."
Another favorite track of mine has to be "Hand Me Downs," a slower guitar ballad with a casual, thumpy drum beat. The line "That's charity, um, I move carelessly, that's why I'm always trippin'" reflects a variety of meanings, showcasing Miller's witty wordplay. It reflects the stumbling habits of someone drinking, the connotation of "trippin'" being used as someone who is freaking out and also someone who may be using substances to cope. This is something Miller has all but admitted to doing all throughout his albums.
No song may hit harder than the closer, "Once a Day," as Miller repeats lines of hope to his listeners, even as he may be hopeless himself. "Don't keep it all in your head / The only place that you know nobody ever can see" has to be another one of my favorite lines off the album.
The album ends on an unstable chord that can only be resolved by playing the first chord off the companion album "Swimming." This is just another clever use of production that Miller has become so adept at over the years.
"Circles" was not nominated for a Grammy Award, something I always viewed as a terrible misfortune, especially after his album "Swimming" lost for Rap/R&B Album of the Year. But to me, the impact of the album on not only myself, but many others makes up for it in a way. It's a shame Miller never got to see the aftermath of the release, but it's clear to me, Miller created the perfect circle of music with this release.