Little Amal Walks Through the Bronx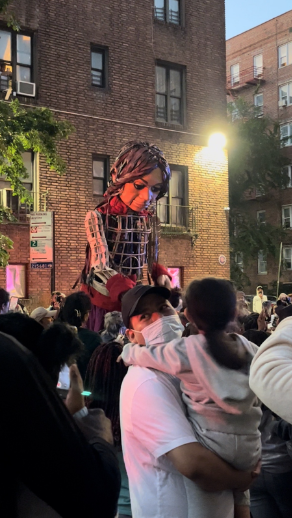 Last Sunday, Sept. 25 2022, Little Amal walked through the streets of the Bronx on a mission. "Who is Little Amal?" you may ask. She is a 12-foot puppet who travels the globe to represent the stories of countless child refugees forced to separate from their parents and flee their homes due to war and persecution.
What is her story? Little Amal is a 10-year-old Syrian refugee who has been separated from her mother and has traveled across more than 12 countries in search of her. Her passage, known officially as "The Walk," tells her story to the world and allows her to serve as an international symbol for compassion and human rights. Her message: "Don't forget about us," uniting thousands with similar stories in solidarity.
As for the Bronx encounter itself, the Walk was absolutely breathtaking. Nothing could have prepared me for how powerful Little Amal's presence really was. Her physical body was great, made of wood and wires, but her spirit was even greater. I remember how we followed her in awe through the streets. It was a large gathering. The police were guiding us, blocking off the roads to protect us from traffic. I remember how she would stop every so often to turn and look at us as we cheered. She would dance as we chanted, swaying back and forth to our praises. Sometimes, she would even bow to us and shake our hands.
The crowd was of all differ- ent backgrounds and ages, yet we walked in solidarity with Little Amal, enamored by her message. Our chants were in many different languages, but they all meant the same thing. "Keep Walking!" we would scream, encouraging our heroine to continue her journey and complete her mission. Many held up pre-made signs of their own creation with words written on them such as "Welcome to the Bronx" and "Our Home is Your Home" in bold colors and letters. Additionally, numerous people held instruments in their hands as well. Some had tambourines while others had makeshift maracas they made by filling tupperware with beans. Nevertheless, we all chanted to the same beat. The air was filled with music as we marched together through the streets of the Bronx.
Eventually, we made it to a small park on Evelyn Place, Little Amal's final destination for the day. There, a circle was formed around her, and the mu- sic intensified as the HipHop crew, Dynamic Rockers, break- danced for the crowd and for the traveling icon. The cheers grew louder and louder as the crew blew us away, their talent representing the rich musical culture of the Bronx. I watched as Little Amal's eyes grew wide in wonder as she witnessed the sight. By then, the sun had set, and we were encapsulated in the night scene, surrounded by street lamps as well as each other's bittersweet smiles as we realized our walk was coming to an end. We watched as security cleared an opening for her as she waved to us good bye. Each and every one of us waved back wishing her well on her epic journey.
In all honesty, watching her leave hurt. However, her story has not and will not come to an end. Little Amal will continue to walk and will continue to spread her message to the world. According to the Artistic Director of "The Walk" Amir Nizar Zuabi, the purpose of Little Amal is to "change the narrative." She is meant to highlight the fact that "Yes, refugees need food and water, but they also need dignity and a voice." Such an icon serves to stand as that voice, to bring together the rich cultures of refugees and immigrants and to celebrate diversity. The team of "The Walk" hold onto hope that Little Amal's abundant presence will spotlight "the potential of the refugee, not just their dire circumstances." They revere the contributions of the refugees to their new societies and commemorate the overwhelming beauty of them. To this day, Little Amal continues to inspire countless people with her example of courage. The only question left to ask is, "How will you choose to welcome her?"