USG Discusses Fordham's Vaccine Mandate and Columbus Day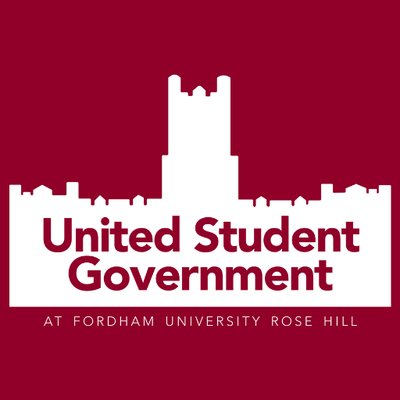 Fordham's United Student Government (USG) hosted their weekly meeting on Thursday, Oct. 6, to discuss public concerns and agenda items. The meeting opened with Vice President of Fordham College Rose Hill, Gaby Simporios, FCRH '24, raising the concern of the lack of study spaces open on the weekends. According to Simporios, students reported that Hughes Hall and other spaces are closed on the weekends, leaving students with limited choices. Vice President of the Gabelli School of Business, Natalia Kimmelshue, GSB '23, said that she is working on a proposal to keep Hughes Hall open on the weekends, and is working with Public Safety to try and find funding to do so.
Senator Brian Inguanti, FCRH '24, brought up concern about the lack of paper cups in the Marketplace. Senator Andy Diaz, FCRH '25, raised the point that there seems to be confusion among Marketplace staff about whether or not to-go boxes are allowed to be used this year. They were referred to the Student Experience Committee.
Senator Molly Ewing, FCRH '25, raised concern about the academic calendar still referring to Oct. 10 as "Columbus Day" instead of "Indigenous  People's Day."  She said that many other universities have changed the name of the day and inquired about the name-changing process at Fordham. Briana Al-Omoush, FCRH '24, vice president of diversity and inclusion, said that she knew of a senator passing a movement to formally change the name a few years ago. Alex Chavez, GSB '23, vice president of finance and budgets, said that concern about the name was brought up at the most recent Student Life Council meeting and the proposal was currently with the Board of Trustees.
Executive President Santiago Vidal, FCRH '24, asked Dean of Students, Christopher Rodgers and Assistant Vice President and Dean of Student Services, Keith Eldredge, who were both present at the meeting, about the process of changing "Columbus Day" to "Indigenous  People's Day."
Rodgers suggested that USG talk to the Office of Multicultural Affairs to see where talks have gone. According to Rodgers, there is "diversity in opinion" about the name change at a university level.
Eldredge attended the meeting to answer student questions about Fordham's recent decision to require students, faculty and staff to get the new bivalent COVID-19 booster shot.
Senator Jamie Serruto, FCRH '24, asked about the decision process to create this new mandate. Eldredge said that the university mandates students, faculty and staff be "up to date" on COVID-19 vaccinations, per the Center for Disease Prevention and Control (CDC) recommendations. He said that the CDC now considers "up to date" as including a bivalent booster, therefore Fordham now requires it. Simporios raised the concern about the Nov. 1 deadline. She said that many students are concerned about getting the vaccine during midterms and feeling side effects from it. Eldredge said that individual students can reach out about getting time extensions. Vidal asked about the on-campus vaccination center, saying that all appointments are booked. Eldredge said they are working on extending hours of the clinic and adding more appointments; he also directed students to look off campus for immunization sites. When asked about the lack of other universities requiring the booster, Eldredge responded that Fordham did not look to other schools.
"We made a commitment to being up to date," said Eldredge.
The questions were then opened up to student questions from the audience. Zachary Visconti, GSB '25, said that he came with concerns about the mandate from parents and students. He asked Eldredge if athletes from opposing teams and food vendors would be required to have the booster.
Eldredge clarified that they would be required, but there is an exemption policy in place for student athletes. Visconti asked if there was enough pushback from parents and students whether or not the mandate would be reconsidered. Eldredge said that there are policy makers at the university who made this decision and they would listen to any feedback provided but there is not necessarily a "tipping point" where a certain amount of criticism would make them reevaluate.
A motion was started by Serruto to extend the time of questions about the mandate. The motion failed.
Two clubs, the Bengali Student Association and Girls Who Code, presented to USG for approval. Both were approved.
Vidal reopened the issue of the Jesuit Student Government Alliance's letter to Congress. The letter would ask Congress to allow students to register to vote using only their college ID. The issue was brought up last week, but could not be resolved because there was no forum from the class of 2023 and 2024 GSB.
USG voted to join the letter. 13 were in favor, 10 against and 1 abstaining. Both event budgets for Gabelli Explores and Commuter Chats were passed. The executive report stated there is no rain date yet for the Keating Steps performance.
On the day of Keating Steps, there was no inside location to move the event that could accommodate the audience.
FCRH Dean's Council announced that they are looking for feedback from students about what resources would be helpful for the class of 2024. Dean's Council is looking to work with the junior class dean to plan events for the class of 2024, as many students are still feeling the effects from a freshman year entirely online.
The Budget Committee reported that they still do not have funding to allocate, but hope to get it soon. The Sustainability Committee reported that they are working on a proposal to bring back the reusable cup policy in Starbucks.