The 2022-2023 Atlantic 10 Men's Basketball Preview
Characterized as one of the best non-power five conferences in all of college basketball, this upcoming Atlantic 10 Men's Basketball season is about to be as unstable as it's been in almost nine years, which was the last time the league sent over five teams to the NCAA tournament.
Without further ado, here are my team previews and what to expect in this upcoming season. 
These are in no particular order.
Dayton Flyers
Winning 24 games with mostly freshmen is perhaps the most decorated achievement in the modern age of college basketball. Head coach Anthony Grant now enters his sixth season with a team that has some of the highest potential in his coaching career. 
Returning to the Flyers is reigning A-10 Rookie of the Year DaRon Holmes II, who earned Second Team All A-10, A-10 All-Rookie and A-10 All-Defensive honors as a freshman. Alongside Holmes is fellow All-Freshmen selection Malachi Smith, Second Team selection Toumani Camara and reigning Sixth Man of the Year Koby Brea. The Flyers added Mongolian native Mike Sharavjamts, the 95th ranked player in the 2022 class, and Tyrone Baker from Georgia to their team.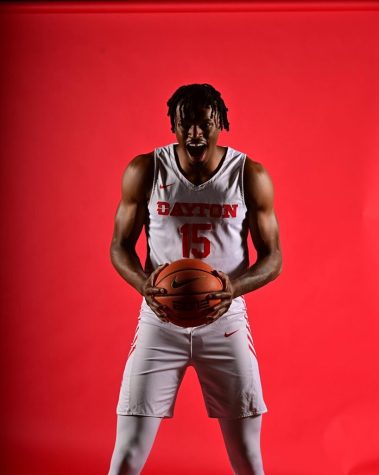 Last season, the Flyers ran into Richmond who ended their A-10 tournament run in the semi finals, which prevented them from an NCAA tournament bid. This season, continuity is king and the Flyers will push for a top 25 rank that is certainly not out of the question.
VCU Rams
No matter who is there, Virginia Commonwealth University (VCU) always finds a way to dominate the defensive end despite their pedestrian offense. Since VCU joined the A-10 in 2012, they have only missed the NCAA tournament three times. This team lost a lot via the portal or early exits to pursue the pros, but head coach Mike Rhoades has found a way to replace those he lost.
Between Vince Williams and Keshawn Curry leaving school early, Hason Ward transferring to Iowa State and Levi Stockard graduating, Rhoades scooped up some of the Michigan Wolverines' leftovers: 6'5" Zeb Jackson and big man Brandon Johns Jr. to replace the aforementioned Ward and Williams. Rhoades also pulled out a gem from the America East Conference: former Hartford guard David Shriver as perimeter scorer. They also have locked up three fascinating recruits: local Virginia product Alphonzo Billups II, London native Tobi Lawal and Pennsylvania homegrown Christian Fermin. All of these freshmen will be expected to contribute out of the gate.
The relentless 40-minute press is the calling card, and players such as Adrian "Ace" Baldwin need to remain healthy and take a climb in production. Rhoades likes his depth, and that is key when you have the hellacious style of play that VCU has.
Saint Louis Billikens
When Javonte Perkins tore his ACL in the pre-season, the Billikens were expected to be mediocre. But head coach Travis Ford morphed Yuri Collins into the nation's reigning assist leader and only lost two players to the portal. 
Collins was First Team All A-10 but wasn't alone; Gibson Jimmerson also received Third Team honors and served as the lead option in Perkins' place. The team also received contributions from big man Francis Okoro as a rim protector and Terrence Hargrove as a stable three point shooter last season, hitting 35% of his threes. The Billikens add Sincere Parker; a junior college snag who shot over 40% from range and averaged 15.6 points per game. Missouri transfer Javon Pickett comes to aid Perkins with scoring while freshmen Nick Kramer and Kellen Thames will play key bench roles.
The Billikens are going to be a problem, but can only go as far as Javonte Perkins can. The former A-10 Player of the Year candidate must return to that form, which is very likely to happen. If all goes according to plan, Saint Louis could be another team pushing for a top 25 ranking.
UMass Minutemen
The University of Massachusetts (UMass) has struggled since its last NCAA tournament appearance in 2014. The team hasn't won more than 17 games in a season, they are now on their third coach in six years and players have been leaving left and right. The program hired former University of South Carolina head coach Frank Martin, who is most known for his magical final four run with the Gamecocks in the 2017 tournament, to right the ship.
Martin, like most, has used the transfer portal to rebuild the foundation. Two of his former players at South Carolina, Wildens Leveque and TaQuan Woodley, have followed Martin to provide front court help for a team that was tenth in rebounding last year in the A-10. Boston College transfer Gianni Thompson has also joined the Minutemen alongside Louisville transfer Matt Cross. Martin also stole Rahsool Diggins from the University of Connecticut Huskies, a former top 60 recruit in the 2021 recruiting class, who will provide much needed guard play. Martin even got Tafara Gapare, originally a DePaul commit, to reclass and play this season.
There is lots new on the UMass team, and Martin is going to have to glue things together in a short amount of time. He's asking stowaways, unproven freshmen and bench players to produce at large for the Minutemen, a concept that can very easily backfire.
George Mason Patriots
While the top four seems very clear, the middle of the pack is going to be the famous Spiderman meme. George Mason University is one of those teams that should improve following their 14-16 season under second year head coach Kim English.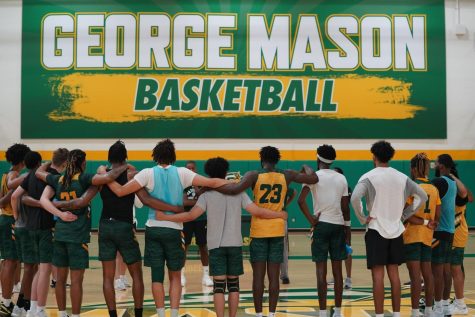 English finally gets to play his prized recruit, Justyn Fernandez, who redshirted last season. Victory Bailey Jr, his former Tennessee player, has transferred to the Patriots. English also won the battle for former Virginia Tech product John Ojiako to help solidify the middle next to Josh Oduro, a First Team All A-10 selection last year. The team has also added New Mexico transfer Saquan Singleton as another perimeter scorer. Devonte Gaines, Ronald Polite and DeVon Cooper also return from last year's team that jump started the rebuild.
The Patriots have added some much needed shooting around three of the top four scorers from last season. Continuity dictates a leap from the Mason unit, perhaps going .500 or better on the year. English's intense approach and attention to detail will go a long way given how tough the A-10 is going to be. They'll need to find stability at point guard, however, which at worst could be a platoon between a few people.
Fordham Rams
The Rams unexpectedly lost Kyle Neptune to Villanova, but have hit the ground running with Keith Urgo as the new head coach. Fordham does lose one of the nation's best rebounders in Chuba Ohams and veteran role player Josh Colon-Navarro, but seem to be in good position to improve.
Darius Quisenberry returns after leading the team in scoring last year, Antrell Charlton is also back to help lead as a point forward and a defensive captain. The Rams also get back five key rotation players from last year, most of whom are on the older side. Fordham added former Georgia Tech forward Khalid Moore via the transfer portal. The program is also sprinkling in five freshmen who make up the highest rated recruiting class since 2008.
Even if Fordham improves slightly, the program is far from A-10 title contention. The experience factor and culture will go a long way; playing all but two of the non-conference games at home is an express route to building chemistry. Urgo and his staff seem to know what they are doing, and the talent is there for the Rams to improve. Now it is a matter of how it will all be tied together.
Rhode Island Rams
Here is another team that can improve under new-ish head coach Archie Miller. Miller has been in the A-10 before when he was with the Dayton Flyers, and had four incredible seasons with the team going as far as the elite eight in 2014. 
Rhody's improvement is going to happen via pivoting. Miller pivoted the roster from mostly bigs to a smaller, faster team with guards and athletic wings. Miller stole A-10 All Freshman selection Brayon Freeman from George Washington University, then snagged Brandon Weston from Seton Hall, Anthony Harris from North Carolina, Alex Tchikou from Alabama and junior college big Josaphat Bilau to replace the Mitchell twins. Miller also has three freshmen incoming: Louis Hutchinson, Rory Stewart and Jeremy Foumena who will look to fill major holes. Miller additionally retains four players from last year's team. 
The Rhode Island Rams, at minimum, can flip their 15-16 record from last season. But like UMass, Miller is going to ask freshmen and stowaways to produce. Regardless, Archie Miller has given himself a good starting point in the rebuild.
Davidson Wildcats
Longtime head coach Bob McKillop retired after 33 amazing years, and three of the top four scorers last year are gone. McKillop's son, Matt has taken over as the head coach which is good in theory, but can Davidson replace what they lost?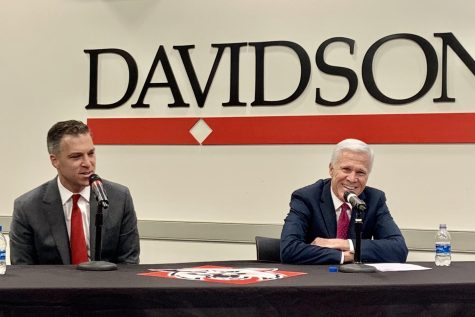 Besides the returns of Foster Loyer and Sam Mennenga, Grant Huffman returns with Styrmir Thrastarson to perhaps round out the starting lineup. Desmond Watson will likely be thrown into a starting role, at worst the team's sixth man. Former Colonial Athletic Association Rookie of the Year Connor Kochera joins the team along with David Skogman from the University of Buffalo. Freshmen Reed Bailey and Sean Logan will be asked to help out faster than expected.
There is no honest assessment of this team given their off season. It seems that for year one, Matt McKillop is going to throw things at a wall and see what will stick. Losing three all- conference players, one of whom was the league player of the year, is going to be a tough replacement for McKillop. Davidson's pedigree does run strong which might mean this year could be a blip in the radar. 
Loyola-Chicago Ramblers
The newest addition to the A-10 this year are the nationally heralded Loyola-Chicago Ramblers, the home base of Sister Jean. Head coach Drew Valentine runs his program with a defensive minded culture centered around ball movement on offense. 
The Ramblers rumble into the A-10 with two imperative returnees: All-Conference guard Braden Norris and Missouri Valley Conference (MVC) Sixth Man of the Year Marqueis Kennedy. Former Butler big man Bryce Golden joins the Ramblers to give them a chance to hold their own against the best bigs in the A-10. Jeameril Wilson also comes aboard after scoring double figure points at Lehigh, as well as Philip Alston, a Division II transfer who put up 21 points and 10.8 rebounds at that level.
The program lost six players this summer, one was the leading scorer, three others were tops on the team in rebounding. Loyola's a very good team, but there's the possibility they get shellacked. The A-10 is not the MVC, that is how much better the competition is.
Richmond Spiders
As long as Chris Mooney is the head coach at Richmond, the Spiders will be competing. The defending A-10 champs surprised everyone after a 3-4 start, going on a six game tear in December and then a 6-1 stretch from late January to early February. However, major questions surround the Spiders and how they are going to replace program icons. Grant Golden is gone, who ended as a 2,000 point scorer in school lure. Jacob Gilyard leaves as the school's all time leader in three pointers made, assists and steals (also the NCAA all time steals leader).
The salvation for Richmond is the return of Tyler Burton, an A-10 Player of the Year candidate. Andre Gustavson also returns but needs to take a climb with his production overall. Mooney adds Lafayette big Neal Quinn into the Princeton offense; a player with a 2.6 career assist average that should fit into the system seamlessly. Jason Roche also joins from the Citadel as a three point threat, Isaiah Bigelow comes along as a mismatch headache from Wofford, and Mooney is likely to run redshirt freshman Jason Nelson at point.
Any hoops head knows that the Princeton offense is not a hard concept, but running it is a whole other issue. Golden and Gilyard were in Mooney's system for five plus years. Quinn is about as good of a replacement for Golden as you can find, Nelson will replace Gilyard in theory, a task easier said than done. The team is old again but as previously stayed with Loyola, the A-10 isn't the Patriot League or the Southern Conference.
Saint Bonaventure Bonnies
Head coach Mark Schmidt enters year 16 with the Saint Bonaventure Bonnies, the second-longest tenured coach in the A-10 behind Mr. Mooney. The offseason was abnormal for the program, as 100% of their scoring from last year is gone. Schmidt is known to make something out of nothing, but he's working with scotch tape and Elmer's glue right now.
The freshman class is highlighted by Yann Farell, an athletic freak with raw skill on defense. Barry Evans and Melian Martinez also come aboard to try and replace Osun Osunniyi's production in the middle. The guard rotation will see transfers of St. Peter's hero Darryl Banks, Patriot League rookie of the year Kyrell Luc, Northeastern Conference rookie of the year Anquan Hill and Moses Flowers coming on from Hartford to part the red sea. Fellow transfers Chad Henning and Max Amundson have to come into the big man rotation equation, and Justin Ndjock-Tadjore must go to another level as the only true returnee.
Mark Schmidt really pieced this team together, he returns one player from last year who played sparingly. The players have skills, but questions still remain. How long will it take for Schmidt to build the chemistry? Are the freshmen going to be able to contribute and minimize their mistakes? 
Saint Joseph's Hawks
Hawk Hill and the Hawks are flapping their wings in excitement. Head coach Billy Lange took a leap last year with the Hawks going from 5 wins to 11 wins, a major step forward in the post Phil Martelli-era. Lange has a star he can build around, and he's got the team heading in the right direction barring injuries. 
Erick Reynolds II was an All-Freshman selection last season and is more than ready to take the lead dog role as a sophomore, but he has some friends: Lynn Greer III, the son of Temple legend Lynn Greer Jr, touches down at Hawk Hill after one semester at Dayton. Lange also brings along a junior college transfer in Louis Bleechmore, and adds four freshmen headlined by Christian Winbore. Cameron Brown is the senior captain as well as Ejike Obinna, both of whom should step into lead roles on offense and defense.
The main question is the injuries for this group. They have been shot down since Lange showed up. The Hawks need to to stay healthy because of how important this year's development can be.
La Salle Explorers
The Explorers' image has deteriorated since their last NCAA tournament appearance in 2013, going as far as the Sweet 16. But the once national champions have won no more than 17 games since that season. The Ashley Howard experiment failed quite spectacularly. Now, the program turns to the winningest coach in Philadelphia Big Five history: Fran Dunphy. At the age of 74, Dunphy will now lead the Explorers and is the first coach to lead three different teams in the Big Five. 
Josh Nickelberry will serve as the lead offensive option this year with three of the top four scorers leaving. Khalil Brantly returns after a solid freshman campaign, with Anwar Gill, Jahmir Butckus and Daeshon Sheppared rounding out the backcourt rotation. The frontcourt returns Mamadou Doucoure while adding Hassan and Fousseyni Drame from Saint Peter's. Dunphy will also ask four freshmen, highlighted by Rokas Jocius, to establish a new foundation.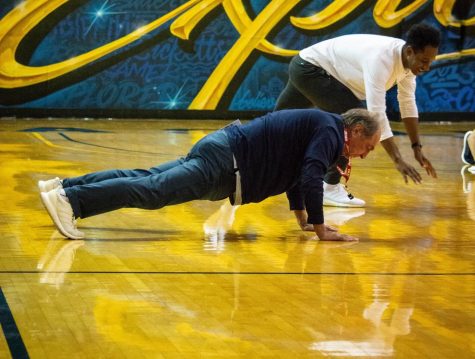 Major questions surround the Explorers: Is Fran Dunphy ready to coach in this new era of college basketball after a two year hiatus? He is the winningest coach in Big Five history as well as a major contributor to college basketball at the mid-major level. His track record speaks for itself with past success at University of Pennsylvania and Temple University, but La Salle's rebuild is a whole new beast.
Duquesne Dukes
Like Saint Joseph's, injuries plagued the Dukes last season which resulted in six total wins. Head coach Keith Dambrot is retooling his team this year with nine new players while adjusting his schemes at the same time. The Dukes were last in the A-10 in points per game (65.2) while allowing the second most points (73.4) only trailing UMass. 
With All-Rookie selection Primo Spears now at Georgetown, Dambrot has found three junior college transfers to ease the blow alongside Miami Ohio's leading scorer from last year, Dae Dae Grant. Big man Tre Williams also comes back, at least giving Duquesne a body down low to try and stop the bigs of the A-10. Austin Rotroff comes back in a bench role as a fourth year player. Five freshmen also join the Dukes in hopes Dambrot can right the ship and build for the future.
The team hit rock bottom in the A-10, collecting only a single win in conference against the University of Massachusetts and losing the next 16 in-conference games. Obviously you can't plan for injuries, but that doesn't excuse the horrendous in conference performance. Dambrot's job is wobbly at the moment but his offseason success has bought himself more time. But if things go sideways, Dambrot could be out of Pittsburgh swiftly.
George Washington Colonials
The Colonials are in a strange position following the dismissal of former head coach Jamion Christian. Chris Caputo heads to the nation's capital after serving as the lead assistant under Jim Larranaga at the University of Miami. The Colonials also lost two of their top three scorers from last season: Brayon Freeman to Rhode Island and Joe Bamisile to Oklahoma in the Big 12. 
James Bishop returns after being second in the A-10 in scoring last year and is still a threat to score in bunches for Caputo's offense. He also adds Maximus Edwards, a former Kansas State recruit, into the mix who's seen tons of praise early on in pre-season. Jabari West Jr. is the only true freshman coming onto the roster with George Washington as his only offer according to the recruiting services. Other than JUCO transfer E.J. Clark, Caputo has kept everyone else aboard for the ride.
George Washington at least keeps Bishop to lead the way, and perhaps he can open up the offense for their guards. Along with West Jr., Hunter Dean and Noel Brown have to lead the big man platoon. Bishop also needs a second perimeter scorer. The team hopes that is Edwards, but other threats need to emerge if the Colonials want to be successful.