United Student Government Discusses Halloween, Reusable Cups and Upcoming Events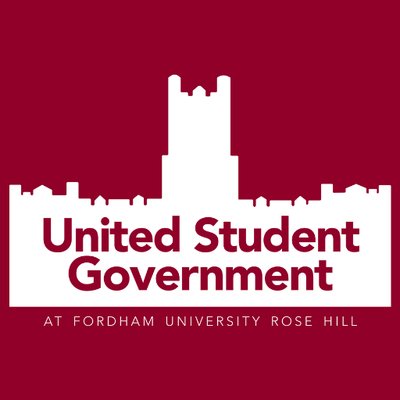 On Thursday, Oct. 13, the Fordham Rose Hill United Student Government (USG) met to discuss new public concerns and new proposals.
Executive President Santiago Vidal, FCRH '24, and Senator Jack Glynn, GSB '25, brought up public concerns regarding hot water issues in some buildings and the many complaints about the heaters and air conditioning systems. Vidal said that he has heard complaints about the AC being turned off in O'Hare and in Hughes' trading room, which has caused uncomfortable living and work environments for the students. Vidal stated the AC is not required to be turned on after October, however, due to the high volume of student complaints, he will talk to the Facilities department.
Senator Jamie Serruto, FCRH '24, asked who the students should reach out to if the heat in their room becomes a constant issue. Stephen Clarke, assistant director of student involvement, said that each resident hall has a different procedure for fixing issues in dorms. Vidal said that if there is no other option and a room has become unbearably hot or cold, students can call Public Safety, explain that the situation is not urgent, and they will refer you to the best department for your issue and send someone to fix the problem.
Senator Andy Diaz, FCRH '25, was announced as senator of the month. Diaz was presented this award due to his extreme engagement in the USG community and selfless acts.
El Grito de Lares was also presented with an award for Club of the Month.
Vice President of Sustainability Liz Shim, FCRH '23, presented a proposal to reinstate reusable cups in the on-campus Starbucks location. Shim said that Starbucks used to have reusable cups that students could buy to use at Starbucks. However, that practice was paused due to COVID-19. Shim said that since many COVID-19 mandates have been lifted, this one should be as well.
Senator Reese Dains, FCRH '26, announced that they would also like the reusable cups to be able to be used at other on-campus dining locations.
Shim also stated that the Fordham Flee donation bins are being reinstated in residence halls and that four residence halls have already approved and supported this idea.
At the meeting, Senator Dan Sponseller, FCRH '25, stated that he is in the process of creating a proposal to keep the McShane Campus Dining Center open until 11 p.m. Monday through Thursday.
Senator Sean Power, FCRH '24, said that he is working on eliminating the new COVID-19 booster mandate.
USG met again on Thursday, Oct. 20, to discuss public concerns and upcoming events on campus.
The Campus Activities Board (CAB) committee discussed their upcoming Halloween programming and the issues with purchasing and communication with the Office of Student Involvement (OSI). Stephen Clarke, assistant director of student involvement, stated that the office has maxed their school credit cards so they have limitations on what can be purchased.  They are in the process of fixing that issue.
The Senate discussed recent technological issues and concerns with the IT department. The IT representative explained the new extended delegate portal where students will now be able to give their parents access to their online portals, which would allow them to view payment plans, grades, etc. Parents will not have access to this portal unless their student allows it.
Executive President Santiago Vidal, FCRH '24, asked if IT has considered giving students free Canva accounts.
The IT representative said that they have not discussed that possibility but will take it into consideration for the future. Vidal also thanked the IT department for working on improving the registration process last semester.
Vice President of the Gabelli School of Business Natalia Kimmelshue, GSB '23, proposed an event where the GSB Dean's Council outreach council will buy baked goods from a bakery that employs mentally disabled adults to support the small business.
The event was approved by the Senate. Kimmelshue also presented a proposal for a GSB Dean's Council transfer student social event, and it was also approved by the Senate.
Vidal stated that he wants the USG to give a statement in support of the people in Iran and that there will be Executive Board office hours. If students were to visit, they would be able to express their concerns and discuss any issues on campus directly with the executive board members.
Stephen Clarke said that the construction on the road in front of Fordham Prep will continue  until Dec. 1.
Gaby Simporios, FCRH '24, vice president of Fordham College Rose Hill discussed the idea of doing registration testimonies where upperclassmen will explain situations where their first choice classes did not work out and instead had to register for a class that they did not want but it turned out being a great class. Simporios explained that the freshman class are concerned with registering for spring classes, and she hopes that the registration testimonies will calm their nerves.