Yes, the Perfect Pastry Shop Exists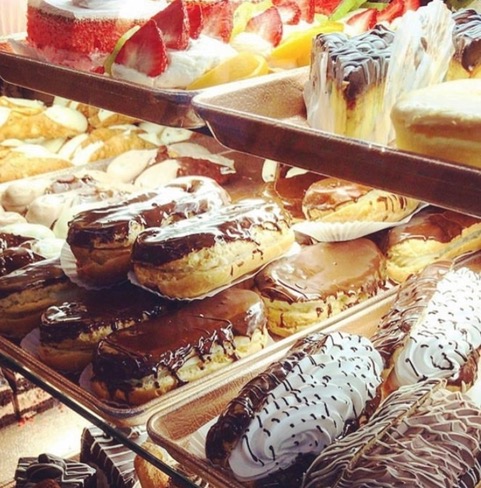 DeLillo's Cafe & Pastry Shop is located on the mainstay of the Arthur Avenue food scene. It has been perfecting its authentic Italian pastries and cakes since opening their doors in 1925. Everyday from 8 a.m. to 8 p.m. — except until 7 p.m. on Sundays — the shop serves fresh batches of its delectable trademark pastries. Whether your sweet tooth demands cannoli, calzones, amaretti, biscotti or pignoli, there is certain to be an abundance of each lined neatly behind the shiniest of windows. In the warmer months, customers can savor some gelato on the outdoor patio, but as it's fall I highly recommend ordering a cappuccino and slice of carrot cake to blissfully consume at some quiet corner table. 
Another reason DeLillo's is such a tempting location is because of its soothing atmosphere; the soft rumblings of customers placing their coveted orders and the bakers in the back conjuring up iced perfections is enough to set any anxious student's mind at ease. More often than not I find myself staying at a table even after my espresso is long finished and the last morsels of my naparelli cookies have been devoured. It's one of my favorite spots to get work done — especially on those rainy days when being inside bores you, but it's too wet to study on some secluded bench. No one will bother you and there's nothing that helps pass by hours of work better than coffee and something sweet. 
DeLillo's is also the perfect spot to place an order for special occasions such as birthdays, graduations or weddings. This month and last it was two of my close friends' birthdays, and my roommates and I wanted to surprise them. I knew no other pastry shop could prepare the kind of cake we had in mind better than DeLillo's would. The red velvet cake was flawlessly frosted and didn't murder my tastebuds with too much sweetness, as red velvet cakes often do. We also ordered the assorted box of cookies which was the perfect choice and afforded everyone something small and delicious to celebrate with. As our friend blew out the candle on her rainbow cookie I found myself trying one of my new favorite ones, the anginetti. 
On another note, customer service is almost as sweet as what they sell. Every person who has ever placed my order has done it with genuine kindness and a smile (even in the early morning, which is saying something). Altogether it has a warm atmosphere where service is friendly and the food is always succulent. And, although DeLillo's has a wide variety of pastries they also have some of the most delicious coffee I have ever tasted. For all the coffee lovers who may be looking for a place besides Starbucks to grab some caffeine, and don't have a particularly sweet tooth or a fondness for ridiculously long lines, DeLillo's may be just the place for you. Just because it's a pastry shop doesn't mean you can't only order coffee (although how can you not be tempted?). 
My go-to order at DeLillo's will always be a cappuccino with extra cinnamon and a slice of double chocolate cake. This order is a great way to treat yourself, especially at the end of a very long and draining week. Because of its close proximity to Fordham it's an easy way to grab something off campus for a change, but without having to walk too far. I happened to find this little gem on Arthur by accident while seeking shelter in a rainstorm. I wound up staying even after the rain cleared and ordering what has become my go-to order. Although I might have stumbled upon it sooner or later I like to think that the way I found it was a sign. A silly little sign I have interpreted to say that the cafe will always be there whenever I need something sweet to lift my spirits or a place to study when I need some peace and grow tired of Walsh Library.
Overall one does not have to be an Italian pastry connoisseur to enjoy the warm ambiance of DeLillo's Cafe, but simply be in want of a good cup of coffee and a quiet place to work.