Tom Brady's Revoked Retirement Announcement Stains his Legacy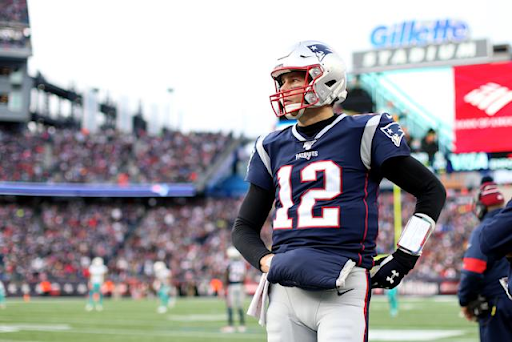 Tom Brady is the greatest football player of all time. It feels good to confidently say that statement, and even better to write it in an article I know will go to print. Like many current college students, I grew up in an era where there was a genuine debate over who the NFL's king was. However, as soon as Peyton Manning left the gridiron and started acting in Nationwide Insurance commercials while Brady was still winning Super Bowls, the haze settled and the title of G.O.A.T. became crystal clear.
While Brady has solidified his spot as football's top dog, he has done irreparable damage to his career by failing to retire when he announced he was last winter. Irresponsible and overeager journalism by Adam Schefter aside, Brady significantly tainted his legacy by deciding to come back for season 23 just a few weeks after his official retirement announcement post.
Brady's "just kidding" approach to something so serious for fans of the Patriots, Buccaneers or sports fans in general is bad enough. Taking back such an important announcement felt like a promise broken. As a Patriots fan myself, I was excited for the day Brady was going to announce his retirement, when he was going to be honored for the historic dominance he gave to the sport of football, be celebrated by New England for his dominant transformation of their football team and for playing a massive part in making my generation of Boston sports fans spoiled with championship parades and frankly unsustainable expectations of our beloved sports teams.
The frustrating thing is that Brady got his retirement party. Tributes from superstars across the sports world, bitter tweets from Pats fans frustrated with his Buccaneers-centric retirement announcement and gratitude from New Englanders all happened. Brady got what seemed like a proper send-off.
Fast-forward eight months and the Brady that was so honored in early 2022 is struggling with a 4-5 record, a frustrated team and tension in the Buccaneers locker room that was once motivated and fueled by a sharp leader in Brady. Brady's current personal issues are not meant to be focused on here, but it is simultaneously necessary to acknowledge the elephant in the room involving Brady's divorce proceedings with Gisele Bündchen.
My criticism of Brady's retirement situation is not that he is still playing. If it was November 2022, and Brady had never made a retirement announcement, was currently leading a winless team and swimming in an even more tense environment with his current teammates, that would be better for his legacy than what will transpire when he eventually retires.
My prediction is Brady will leave the sport for good after two more seasons. Whether it's two more, three more or no more after the current season is beside the point.
What I know for sure is that Brady will get similar testimonials and messages looking back on his career, as was the case this past winter from others in the industry.
But because these messages and tributes were already dispensed, and already used to honor Brady, what was thought to be his 22-year career nearly eight months ago, his legacy won't be properly recognized.
These second rounds of honors will be inevitably watered down and colored by the idea that this was only meant to happen once.
Even if Brady is able to collect three more Super Bowls or wins another MVP award, a clean break would have been best.
Best for Patriots fans who witnessed six Super Bowls in 17 years after 36 years without a whisper of a single trophy.
Best for football fans who have been frustrated with or in awe of Brady's physical longevity.
But importantly, it would have been best for Brady, who will never drop his title of the G.O.A.T.