Volleyball Misses Postseason; Lipski to Stay for Year Five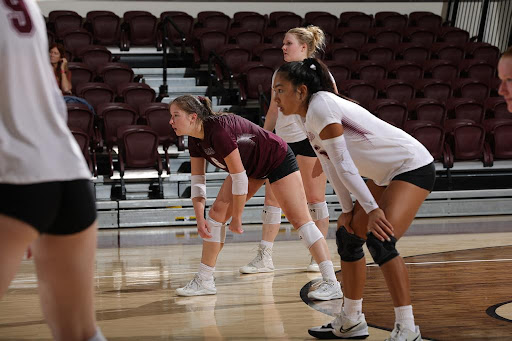 Fordham Volleyball was officially eliminated from Atlantic 10 tournament contention over the weekend after dropping a pair of matches to Saint Louis University on their Rose Hill home floor.
While the Rams' chances of qualifying for the conference tournament in 2022 officially fell by the wayside, this past weekend wasn't all bad news. Senior libero and vocal leader of the Rams, Mallory Lipski, announced she will return to Rose Hill in the fall for her fifth and final year of eligibility. Lipski is one of many NCAA athletes who have been granted an additional year of eligibility due to the 2020 season being disrupted by the pandemic. According to Lipski, the decision to return was one that had been in the works for quite a while. 
"Hey Coach Ian, I might be interested in staying," Lipski said at one COVID 19-era practice. And a huge part of why Lipski felt compelled to return for her graduate year was in fact head coach Ian Choi himself. 
"I've always been very flattered. I feel like he's always believed in me, he's always seen something in me," Lipski said ahead of Friday's match versusSaint Louis. 
Outside of an inspirational coach, the main reason Lipski wanted to return for 2023 is the talented young core of this team. This season's freshman class made an immediate impact, with Audrey Brown and Zoe Talabog proving to be not only explosive but also consistently productive. With Brown and Talabong maturing and moving into their second year in the Bronx, and junior star Whitley Moody returning for her senior year, the Rams have more potential than ever before. When asked about the talented team returning under  Choi, Lipski laughed and said, "That's something I want to be a part of." 
While the Rams undeniably fell short of their annual goal of reaching the Atlantic 10 tournament, the 2023 Rams are surely poised to make a run. The team will feature Lipski in her graduate year, Moody providing game-changing athleticism and senior leadership and two very talented young faces in Brown and Talabong, all in addition to the talented class of freshmen recruits Choi will have coming in this July. 
This weekend, Fordham will wrap up their 2022 campaign with two matches at home versus. George Mason University. While the Rams have no shot at playing beyond this weekend, Friday and Saturday will provide opportunities for the Rams to prove to themselves who they can become next fall. The first match gets underway on Friday at 6 p.m., with the season finale taking place on Saturday at 2 p.m.