Fame and Vulnerability in "My Mind and Me"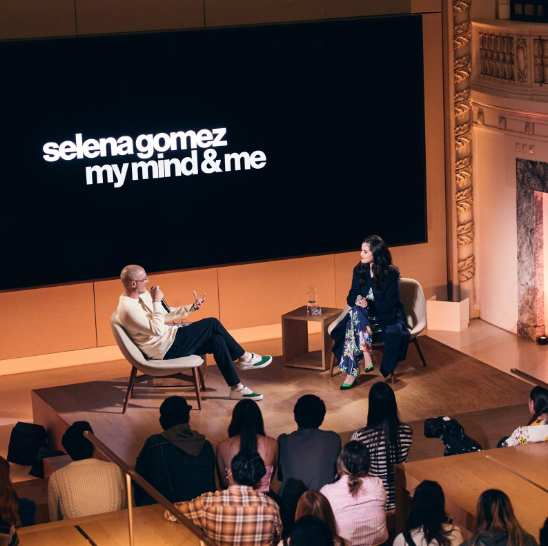 Practically anyone who grew up in the 2000s and 2010s was raised alongside Selena Gomez's career as her bright artistic personality spanned across television, movies and music. She is a defining artist of Gen Z pop culture and has been a role model for millions since the late 2000s. Despite her massive success in several artistic fields, Gomez has endured suffering in several corners of her life throughout every stage of her journey through stardom.
Gomez has been under the spotlight for 20 years now and has had several bouts with scrutiny from the press and general public, so a documentary on the trials and tribulations of her incredible career is long overdue. "My Mind & Me" is intensely raw and honest as it explores her journey with fame, relationships and health with a particular focus on her recent struggles with mental illness.
The documentary dives specifically into the years 2016, 2019 and 2020, all of which were very significant to her career and life. The main themes surround her battle with lupus, bipolar diagnosis, lifesaving kidney transplant and rocky relationships, as well as how all of these challenges affected her music career.
She's been outspoken in the past about her fight with lupus, but this film showed the grim reality that she faces when the disease flares up. A chillingly casual conversation within the first 15 minutes of the documentary details how the effects of lupus on her regularly puts her at high risk of having a stroke.
Although she has been open about some of her physical health issues in the past, this film exposes the world to a side of her life that she hasn't made so accessible before. In the late 2010s, while the star was suffering from depression, anxiety and panic attacks, the press painted Gomez as an unstable and ungrateful artist who simply couldn't handle the pressure of fame. However, raw footage and intimate diary excerpts are used throughout the movie to paint a full picture of the mental agony that Gomez has faced in the last six years. 
Director Alex Keshishian is experienced in creating a nuanced picture of an artist through film. He also directed Madonna's "Truth or Dare." In "My Mind & Me," he constructed a sympathetic image of a superstar who has faced tremendous, and often unwarranted, criticism and been given no room in the media to simply exist as an imperfect human. The powerful intimacy of this documentary is pivotal for understanding the true effects of fame, especially with how they clash with preexisting struggles independent of one's industry status.
In addition to all of the heartbreaking moments covered in Gomez's documentary, there are also many bittersweet and revelatory moments that show how philanthropy has been a source of great relief for the singer. Gomez has been very involved in uplifting the conversation on mental health and has big plans for change that she hopes to help facilitate. She's working with the U.S. government to construct a mental health curriculum that would be implemented in schools, an idea she's been passionate about since beginning recovery from mental health struggles.
Gomez's film isn't a run-of-the-mill celebrity documentary or some sort of publicity grab. This movie beautifully portrays the complex reality of mental illness and its far-reaching impacts. Its poignant honesty encourages a better understanding of what mental health is and how we can work to foster it well as a society. Ultimately, "My Mind & Me" is a crucial advocate for the importance of empathy and compassion, a much needed reminder for a world that grows more apathetic and self-absorbed by the day.