Pejouan Leads Rams to a 2-0 Senior Weekend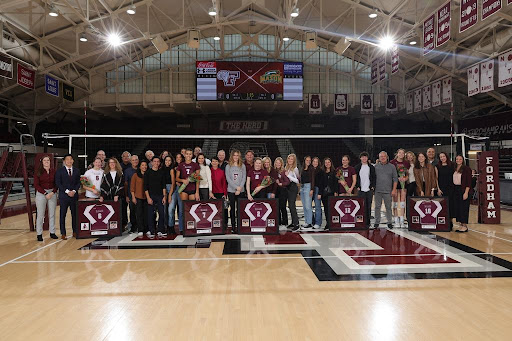 Fordham Volleyball finished their 2022 campaign on a high note, notching two wins over the George Mason University Patriots. Of the four seniors who wrapped up their college careers on this memorable Saturday, Chloe Pejouan in particular put on quite a show. With her family in attendance, she posted 15 kills, 15 blocks and 1.67 blocks per set. This weekend's performance was enough to earn her Atlantic 10 Defensive Player of the Week.
Apart from libero Mallory Lipksi, all seniors will graduate out of head coach Ian Choi's program, including Aria De La Rosa, Megan Brzozski, Pejouan and Analisa Cartledge. While losing all of those regular starters will leave considerable holes in the lineup to begin 2023, there is still a lot of returning talent to be excited about. Perhaps the best news is that Lipski decided to take advantage of her fifth and final year of eligibility to work alongside Whitley Moody in what will be her senior campaign. Outside of the leaders in Moody and Lipski, Fordham will also return the young and explosive pair of outside hitters from this season's freshman class in Audrey Brown and Zoe Talabong. With veteran leadership in place to guide the young talent on Rose Hill, the Rams are poised for greater success in conference play throughout fall of 2023.
To recap this final weekend of 2022, the Rams rolled past George Mason on Friday and Saturday with well-diversified offensive attacks. On Friday, both Moody and De La Rosa accrued 17 kills while Brown also made a solid contribution with 14 of her own. Friday night's match was a real back and forth thriller, but a timely run to close the decisive fifth set fueled by the largest home crowd of the year led the Rams to victory. Then, 18 hours later, the Rams hosted their senior day ceremony before finishing their season with a satisfying 3-1 victory over the Patriots. Saturday's win featured an even more well-diversified attack led by Moody with 12 kills and the pair of ascendant freshmen in Brown and Talabong with nine kills apiece. On the defensive side, Pejouan was a relentless presence with seven blocks on Friday and eight on Saturday.
The Rams finished the year with arguably an underachieving 7-11 mark in Atlantic 10 play and a 13-16 record overall. But this past weekend's sweep bodes well for this balance of young and athletic freshmen and sophomores and veteran upper class leadership heading confidently into a promising 2023.