"Ford v Ferrari": Revisiting Le Mans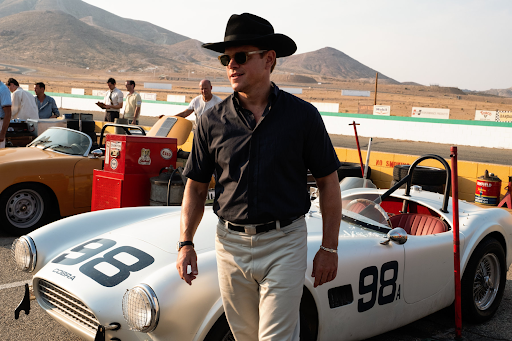 Nov. 15 commemorates the third anniversary of the release of the 2019 biopic "Ford v Ferrari" a magnanimous visual masterpiece starring Matt Damon and Christian Bale with direction by James Mangold, in which the real-life story of Ford's 1966 triumph over Ferrari in the famed 24 Heures du Mans (24 Hours of Le Mans) of rural France roars back to life from immortal memory.
The endurance competition, which infamously lasts for a consecutive 24 hours, saw the Ford Motor Company roaring gallantly from the monumental accomplishment of achieving their podium sweep when three of fifteen participating Ford GT40 Mk. II racecars finished the race in first, second and third places. Detroit's Blue Oval finally made an unimaginable dream a reality at Le Mans, toppling the previously-dominant Ferrari prototypes, and etching Ford's coveted legacy into the history books and the hearts, minds and souls of all car lovers.
Chronicled passionately and painstakingly, "Ford v Ferrari" received widespread critical acclaim and public praise, along with a quartet of Academy Award nominations and two wins, complementing Bale's Golden Globe and Screen Actors Guild Award nominations, and the National Board of Review's ranking of the movie as one of the year's ten best.
"Ford v Ferrari" also indubitably pays homage to the revered classic 1971 film aptly and adequately titled "Le Mans" with 20th-century silver-screen icon Steve McQueen as fictional yet realistic racer Michael Delaney. We look back at the greatest Le Mans story that ever came true, peering through the context and windshield of the greatest Le Mans movie ever made.
In "Ford v Ferrari," Damon portrays retired race car driver, performance car builder and automotive legend Carroll Shelby opposite Bale's Ken Miles, a brash British driver with a talent from heaven and an attitude from hell. The movie/true story opens introducing Shelby's and Miles' respectively outstanding entrepreneurship and temper, with the duo battling their bickering and opponents to win at Willow Springs, Calif.
Meanwhile, Henry Ford II, CEO of Ford Motor Company, receives news that Enzo Ferrari has reneged on their mutual deal for his eponymous car company and racing team to be primarily bought out by the American constructors, and vows vengeance to beat the Italians at their 'own' literal game. At Ford II's orders, Shelby is approached by Ford executive Lee Iacocca, who implores the automotive developer with an opportunity to further his partnership tuning high-powered vehicles with Ford: create and race a car that is going to best Ferrari at Le Mans.
Nearly three years of research and ,development along with $10,000,000 (in 1966 money from Ford) later, Shelby and Miles find themselves living their dreams of racing at Le Mans with a car they engineered, in the final hours on the home stretch to lengthy victory with Miles leading his #1 GT40 far ahead of two other Fords in second and third. Ford PR however had an ironic wrench to throw in the team's success— ordering Miles to allow the other Fords to catch up and cross the finish line at the end of the 24 hours to fulfill the famed 'photo finish' of all three taking the checkered flag in succession.
A reluctant Miles, after ignoring Ford's requests and driving faster enough to set blistering lap records, has a revelative epiphany and elects to slow and wait for the others to regain their ground. The trio take their collective title, but another car is ruled the winner for having started farther back and driven a farther distance in the same time as Miles, who also accidentally dropped slightly behind that victorious GT40.
An infuriated Shelby erupts at Ford PR, in inverted juxtaposition to a stunningly sedate Miles, who wisely reflects to Shelby that the developer promised Miles the drive, but not the win, smiling that Shelby made good on his word.
While outstanding and exceptional on its own, "Ford v Ferrari" undeniably echoes the ethos and pathos of the 1971 treasure "Le Mans." Both illustrate the mystical bond between mankind and machine, metallic animals digesting air and fuel, shooting fire and accelerating their hearts. They are simple yet complex, realistic yet improbable, predictable yet unpredictable, following the basic journalistic rules of considering all perspectives- breaking McQueen's cleverly coined 'film barrier'- but the similarities extend beyond their making to their morals.
In "Ford v Ferrari," our heroes Shelby and Miles don't win. Or do they? A moral victory is a victory nonetheless. As a humble deli manager by day and revered street racer by night hailing from L.A.- Dominic Toretto- once beamed, "Winning's winning." Miles sacrificed the win that was his to be the bigger man, accidentally giving away too much, yet selflessly sharing his spotlight nevertheless.
The same is the case with "Le Mans": in the coda, McQueen's Delaney pilots his Porsche 917 to legally block a friendly rival's Ferrari 512, so that Delaney's teammate can bring his respective 917 to victory. Delaney also surrendered his chance at winning, and was all satisfied grins upon parking his car in the pit lane at race's end. Both Miles and Delaney helped out their teammates, their good deeds went 'punished,' and they still felt like the winners they were and are.
"Ford v Ferrari" and "Le Mans" remind us of the importance of altruism and optimism. You take your wins where you can. Like in life, there's something good in everything. "Le Mans" is a personable and highly relatable film, yet was a tragically misunderstood production upon release. It's now forever a snippet of real life, the passionate drive that makes us human and our animal instinct to be better. Just like in "Ford v Ferrari," which closes with Miles happily pledging he'll win "next time."
Ken Miles passed away two months after Le Mans 1966 while testing the next-generation GT40, but his storied career lived on in the sport he loved.
McQueen once famously remarked, "Racing is life- anything before or after is just waiting." Life can be a waiting game as well: one full of twists and turns, crashes and burns, wins and losses, highs and lows.
After all, life is indeed, a race.