Squash Handles Busy Weekend With Three Wins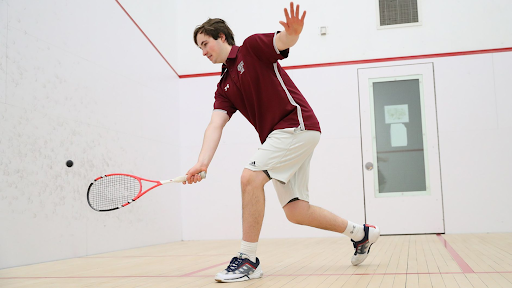 After a four-game weekend, the Fordham squash team took three out of four matches from Nov. 18 to Nov. 20.
The wins came from the University of California, Berkeley, at home in Rose Hill, while they traveled to the Hackley School in Tarrytown, N.Y. for matchups against Washington University in St. Louis, George Washington University and Northeastern University. Northeastern would be the only team that would get the best of the Rams.
On Friday, the Rams defeated the Golden Bears 5-4 in the Bronx after going up 3-0 early. Cal, playing with six players, could not outlast Fordham in fifth and sixth position, ultimately giving the Rams a decisive victory.
Sophomore Sofia Arseniev locked things down in fifth position, defeating Zachary Slonim in three games, with scores of 11-1, 11-7 and 11-4.
In sixth position, sophomore Robert Cruikshank also knocked down his opponent, Daniel Yang, in three games, 11-4, 11-6 and 11-0.
Fordham opened their matches at the Hackley School with ease, taking the first match against Washington University in St. Louis, 7-2.
The Rams made quick work of the top of the order with freshman Adham Nassar winning against his opponent Rohan Sampath in first position 11-3, 15-13, 7-11 and 11-7. The number two and three positions were locked down by the Rams with freshman Nicholas Gilman and junior Henry Frawley winning their both matches in three games.
The fifth, sixth and seventh positions also saw victories for the Rams in three sets.
George Washington was next up against the Rams, who also went down swiftly, 7-2.
While the Rams lost at the one spot, Gilman and Frawley secured two huge wins at the two and three.
The rest of the Rams efforts would come from the bottom half of the lineup as fifth through eighth position swept their matches in three.
The last match for the Rams over the weekend wasn't what they hoped for, as they lost to the Northeastern Huskies 5-4.
Wins from Gilman, Frawley, Arseniev and Cruikshank helped get the Rams close to winning, but the losses at fifth and first position were too great to make up.
Now, the Rams are 10-4 on the season as they gear up to take on their last slew of matches for the fall season. They'll be taking on Yale University's club team, the University of Connecticut and Swarthmore College all at Rose Hill starting at 9:30 a.m. on Dec. 3.