United Student Government Discusses Emergency Preparedness on Campus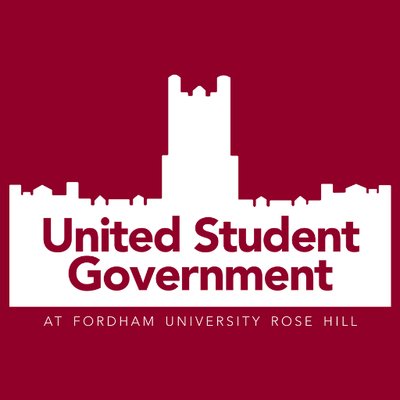 OOn Nov. 17, United Student Government (USG) held its weekly meeting. The meeting was led by Executive Vice President Ava Coogan, FCRH '25. Coogan opened the meeting with public concerns, but there were none. The meeting then went into delegate updates. The Residence Hall Association (RHA) shared their plans to host a "Holiday Extravaganza" in December.

USG then welcomed guest Robert Fitzer, associate vice president for Public Safety, who gave a presentation. Fitzer was asked to come and give a presentation about Fordham's active shooter awareness by Executive President Santiago Vidal, FCRH '24, in light of the recent shooting at the University of Virginia. Fitzer said that active shooter situations typically last between 7-10 minutes and that each situation "is hard to predict." Fitzer also added that "timely intelligence is critical," meaning students should report suspicious behavior to Public Safety. According to Fitzer, Public Safety officers are trained to respond to active shooter situations. All Public Safety officers are retired police officers and receive alert training from the NYPD counterterrorism unit during university breaks.

Fitzer said that in active shooter situations, people should follow the "run, hide, fight" formula. The first thing that people should do is run. If they are not in a situation where running is possible, people should hide and barricade doors. As a last resort, they should fight, turning things in the room they are in into weapons.
In the case of a situation at Fordham, Public Safety will send out a text notification to everyone on campus. The blue lights around campus double as speakers and will announce the situation. Public Safety officers will respond first to the situation and NYPD will follow.

"We're going to be the first through the doors. You're going to see us first," said Fitzer.

Public Safety officers are armed. Fitzer also spoke about the "Ram Path" program. This is a pilot program in which the university partners with local businesses on Arthur Ave. Students and Fordham community members can seek shelter in businesses that participate, and those businesses will call Public Safety. Participating businesses have stickers on their windows marking their involvement. Fitzer also said that the university is not experiencing a rise in threats.

Briana Al-Omoush, FCRH '24, vice president of diversity and inclusion, presented a budget for an upcoming Diversity Action Coalition event. The tabling event will give students hot chocolate and cookies during finals. The budget was approved.

Alex Chavez, GSB '23, vice president of finance and budgets, opened the issue of USG's remaining budget for the 2022 fall semester. USG has to either spend the remaining money this semester, vote to roll over their budget to next semester or vote for the money to go back to the general student activities fund.

USG is the only club that can elect for their extra money to roll over to the following semester, and according to Chavez, have in the past. USG's excess money comes from canceled or postponed events this semester.

A concern was raised about  the FCRH Dean's List as the Gabelli Dean's List receives a ceremony for their accomplishments, while FCRH does not.