Men's Basketball Finishes Non-Conference Schedule at 12-1; Arming for Atlantic 10 Play
The 2022-23 Atlantic 10 season has been flipped upside on its head. Going into this season, the league was expected to send multiple teams to the NCAA tournament. Teams like Dayton University, Saint Louis University and Virginia Commonwealth University were all expected to be competing for March Madness. 
Other teams in the middle were expected to take leaps, including a slew of high-profile head coach hirings that raised the league's national profile. Some of these teams were expected to improve overall within the conference with the concept of "building to the future".
That couldn't be further from the truth.
Fordham University is in sole possession of first place amidst the conclusion of the out-of-conference (OOC) schedule. Most of the A-10 was incapable of picking up significant OOC wins; teams lost buy games left and right, others that were expected to be towards the top are clustered at the bottom. Fordham, along with Duquesne University, are the only A-10 teams with 10+ wins. Both were picked in the bottom third of the league in pre-season polls.
The Rams continued their torrid pace against the University of Maine Black Bears at Rose Hill, with Fordham escaping with a 72-67 victory. Like most situations this year, Fordham found itself down at halftime 34-28 needing to mount a comeback.
Graduate student Darius Quisenberry dropped 18 points, with fellow elder statesman Khalid Moore putting up 16 points and adding 10 rebounds. Junior Abdou Tsimbila continued where he left off against Harvard University with his second consecutive double-double with 10 points and 11 boards. 
Sophomore Zach Riley came off the bench after three straight games of tossing up bagels in the points column, where he added 11 off the bench. He applied the dagger with a go-ahead three with 4:19 left in the game, then followed by an alley-oop from Quisenberry to Tsimbila with 1:35 to go as the extra cherry on top.
Fordham then packed their bags and jumped on the plane to New Orleans for a date with the Tulane University Green Wave, who were a top 100 rated team via NET and Kenpom rankings going into that game. 
The Green Wave's head coach, Ron Hunter, has found national success everywhere he has gone. Heralded for his time at Georgia State, Hunter compiled a 171-95 overall record as their head coach, recording 20+ win seasons in all but two of his eight years, three NCAA Tournament appearances, and producing one NBA player: his son RJ Hunter.  
Tulane's top 100 offense put on a show, receiving 25 points each from Kevin Cross and Jalen Cook, the latter being a candidate for American Athletic Conference player of the year honors. Jaylen Forbes poured on 15 points as well, but Georgetown University transfer Collin Holloway played only nine minutes and was 1-6 shooting.
Fordham struck the iron while it was still hot, getting 23 points a piece from Quisenberry and Moore, while Moore added 10 rebounds on the day. Junior Kyle Rose added 10 points despite struggling overall from the field. His defense is always on for the team as he added two steals and two rejections. 
Junior Antrell Charlton fouled out, adding only five points but contributing his normal boxscore extravaganza with five dimes, four rebounds and three steals. Tsimbila also had another monster game despite fouling out as well, totaling 10 points, gobbling five rebounds and swallowing up four shots.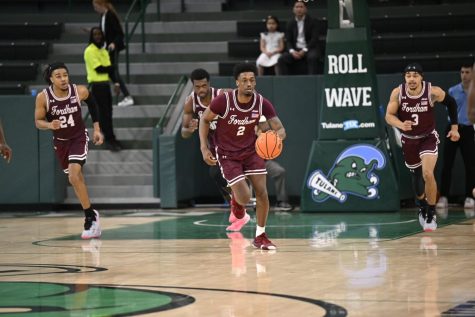 But it was the Fordham bench who stole the show: Senior Rostik Novitskyi was busy at the office, dumping 14 points off the bench along with nine rebounds. Freshman Will Richardson had his breakout game with 11 points, along with two game sealing free throws to propel the Rams to a 95-90 win. 
The "roadkill" game was the height of Keith Urgo's brief coaching career to this point; going into a matchup with circumstances stacked against them and winning a very close game graduated Fordham to another level. 
A return to the friendly confines of Rose Hill constituted the Rams going up against Wagner College, a team who won 21 games last season. Fordham experienced three lead changes the entire game, but pulled away for a comfortable 72-59 victory. Outside of Quisenberry's 25 points, the Fordham starters put together a combined 16 points which included a dud from Tsimbila in his points. 
His bench counterpart, Noyvistkyi, helped carry the load with 19 huge points while rejecting two key shots down the stretch. Riley once again was in the right place at the right time with a three in the waning moments to send everyone home happy. 
The games against Binghamton University and Central Connecticut State University (CCSU) presented identical storylines, both games in which Fordham won by double digits. Against Binghamton, the Rams and Bearcats traded punches for a good while, especially in the second half where the Rams outscored the Bearcats 33-31. 
Khalid Moore took over in the second half, showing how his experience can help win games for the Rams. He finished with 17 points and eight rebounds on the night. The overall game was sloppy, especially in the second half, but the experience factor for the Rams can propel them in bad spots.
CCSU was a relatively drama-free game despite there being four lead changes which came early in the game. But the Blue Devils presented a competitive team for the Rams despite their limited abilities: fast, energetic on defense and relentlessly pushing to the paint which resulted in 30 points in that area. CCSU came into the game as one of the worst teams in all of division one, thus forcing the Rams to start respecting their opponent.
Moore once again was in the kitchen cooking with gas, posting 25 points on 7-8 shooting from the field. Quisenberry hit his first six threes, and was on pace to tie the Fordham single game record for most threes in a game (10), but went cold from range in the second half. 
Instead, he looked to pass before shooting, getting a number of teammates involved. The Fordham bench, as it has been this year, lifted the ship with 26 bench points en route to a 90-77 win over CCSU.
Noyvitskyi went 5-5 from the field against CCSU including five boards, however he fouled out which limited his time. Richardson posted eight points while hitting three of four free throws, while his freshman counterparts Elijah Gray and Romad Dean were able to provide nice minutes off the bench. 
The Rams sat pretty at 11-1 with one more game to wrap up the OOC against an up and coming Virginia Military Institute (VMI) team. Rolling into Rose Hill, VMI was a top-50 team in the country in three point shooting while sitting comfortably within the top 100 offensively rated teams in the NCAA (College Basketball Reference). 
To add another wrinkle to the mix, Fordham was without Darius Quisenberry for this game which posed the question: who would step up in Quisenberry's absence?
Will Richardson got the start at point guard in place of Quisenberry, opening the door for him to step up and have a big game. Unfortunately, the downside of being a freshman in college basketball includes lows. He tossed up a bagel, with two rebounds, one assist and two turnovers before getting put in the doghouse for the remainder of the game. 
Kyle Rose, who's been on a cold streak as of late, did shoot 3-11 from the field but ended with 10 points including seven assists and four swipes. Charlton posted seven points, five rebounds and five assists despite five giveaways. Tsimbila held down the paint with nine points and nine boards, but had four blocks in key moments with a number of hustle plays that turned out to be crucial. 
The bench came to the rescue for Fordham as well. Dean played his best collegiate game to that point posting 11 points that included two threes. Gray came off the bench to provide some good minutes while hitting a three in a big spot. Novitskyi was limited due to VMI being a bad matchup for the big man, only hitting one three in nine minutes. 
It was a perfect time for heralded freshman Angel Montas to get over his preseason ailments and suit up for the Rams. He came off the bench to provide nine points, even playing the closing moments in the second half and overtime. 
This game became the Zach Riley and Khalid Moore show. Moore was sent to the free throw line a ton in the second half, hitting 11 of 12 attempts on the afternoon in the overtime thriller. He carried most of the load with 20 points and 10 rebounds, even playing some center at the end of this game.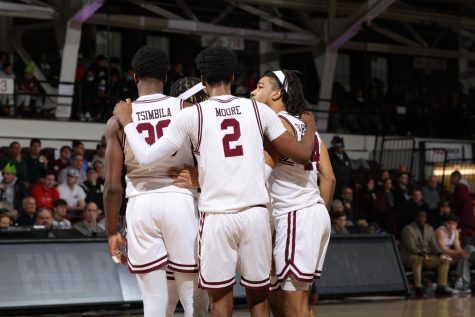 Riley put on the superman cape against VMI. He and Rickey Felder of VMI had a shootout from range, as Felder went 5-10 from deep to keep VMI around. His backcourt mate Asher Woods also had a day with 21 points. But Riley's impeccable timing was the turning point in this game. He cashed in a three with 1:36 to go in the second half to put Fordham up three, but VMI's Sean Conway tied the game at 68. 
The Keydets disrupted Fordham's attempt at a game winning play to force overtime. In the extra period, Moore saved a ball flying out of bounds that was gobbled by Tsimbila. He swung it over to Riley who broke VMI's momentum hitting another three to put Fordham up 78-75 with 2:41 left in overtime. Khalid Moore swirled in some free throws to make it 80-77, and the Rams ended the OOC 12-1 overall.
The group certainly learned a lot about itself, one of those being that they can find multiple ways to win games under most circumstances. Fordham went to a road environment that was certainly hostile (Tulane), and beat a top 100 KenPom team. They generated 17 second chance points and 15 points off turnovers, not bad for a top 100 defensive team.
Keith Urgo has utilized his depth in creative ways, especially since seven players returned from last year. We've seen a number of players have big games: Riley played hero multiple times, Richardson had a breakout game, Tsimbila was great against Harvard and Maine, Noyvitskyi has come up big, same with Dean and Montas against VMI. He also wanted to play faster, with the team currently atop the A-10 in team pace (71.2), and improve the dreadful half court offense from last season, as Fordham is a +10 in the halfcourt according to advanced metrics trailing only VCU.
But with league play looming, questions about Fordham and the A-10 as a whole remain unanswered.
The aforementioned performance of the A-10 in the OOC was severely underwhelming. The league went 0-17 in quadrant one games, including Fordham getting destroyed at #10 Arkansas, and won only six quadrant two games. The Net rankings are uninspiring for each team, some being way lower than expected. There is a good chance that no more than one team goes to the NCAA Tournament, that being the winner of the conference tournament.
Most of the fans on social media are drinking the Fordham Kool-Aid, and rightfully so, but besides Arkansas, Tulane, UMI and Harvard, Fordham has not played any formidable foes resembling A-10 teams. The team will find out how good they actually are once league play begins, including how impactful the freshman can be. 
The formula for the Rams' success is simple: shoot the ball well and don't turn the ball over. Fordham will be able to stay in most games with their defense, but the shooting is what will have to carry them. Even if players like Rose, Charlton or Quisenberry go cold, the depth of the team will help Urgo's program stay afloat. The Rams are currently 42nd in the NCAA in team turnovers per game (15.2), a number that must shrink dramatically. Anywhere between 10-15 turnovers per game will likely result in wins.
The first game of A-10 play begins Dec.  28 at 7 p.m. against Davidson College at home, where we'll find out just how good the Rams really are.