Overtime: A Reflection on the Gio Reyna Drama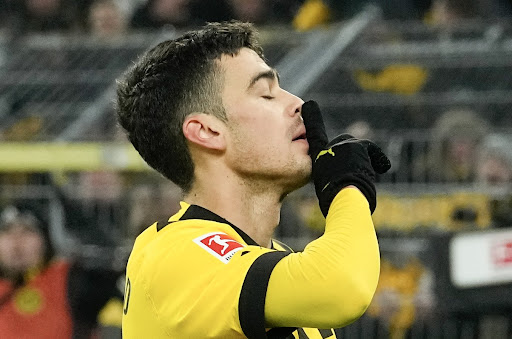 On Saturday, Borussia Dortmund and United States Men's National Team (USMNT) forward Gio Reyna flashed his full potential.
With just minutes remaining in a 3-3 tie against FC Augsburg, Reyna scored a gorgeous volley from outside the box to secure a crucial three points for Dortmund as they attempt to climb back up the Bundesliga table.
After scoring, Reyna hit the trifecta of "defiant" goal celebrations. He shushed the crowd, put his fingers in his ears to "block out the noise" and cupped his ear as if to say "I can't hear you."
Reyna was not referring to his loyal Dortmund supporters but rather the recent drama surrounding himself, his parents Claudio and Danielle Reyna, USMNT head coach Gregg Berhalter and all of U.S. Soccer.
Earlier this month, ESPN reported that Danielle, Reyna's mom, reported a 1991 domestic violence incident between Gregg and his wife Rosalind Berhalter to U.S. Soccer after the conclusion of this year's World Cup. It was also revealed that Claudio, a former USMNT captain with over 100 caps to his name, communicated with U.S. Soccer sporting director Earnie Stewart and USMNT general manager Brian McBride during the World Cup about Reyna's tough experience at the tournament.
Essentially, this is blackmail, despite Danielle and Claudio's claims that they never threatened anyone. It's retaliation for Reyna's low usage at the tournament and for Berhalter's comments afterward. Reyna appeared just twice at the World Cup with both appearances coming off the bench in a tournament where he was expected to play a much larger role. Some speculated he was injured. But the truth was later revealed he was benched for his poor attitude in training, sparking frustration amongst his USMNT teammates.
According to Reyna, he apologized to the team for this and believed they had moved past the incident. But Gregg brought it up after the tournament at what was supposed to be an off-the-record leadership event, and his comments were leaked to the press. Those comments obviously rubbed the Reynas the wrong way, causing them to bring up Gregg's past domestic violence incident.
There's so many people at fault in this situation one way or another, but to me, all of the Reynas should bear the brunt of the blame. To be clear, domestic violence has never and will never be acceptable. There should be serious repercussions for those who lay hands on their domestic partners.
But Danielle and Claudio revealed this information out of malice, not out of support or concern. First, the Berhlater family and the Reyna family have been friends for decades. Claudio and Gregg were high school teammates who played for the national team together for several years, while their wives Danielle and Rosalind were college soccer teammates and roommates at the University of North Carolina. Their sons, Sebastian and Gio, grew up together and both became professional players themselves.
Danielle and Claudio have known about the alleged domestic violence incident since it occurred in 1991. Rosalind went on to marry Gregg even after the incident, and the two are still together to this day. That doesn't excuse Gregg at all for what he did, but it shows she forgave him and moved on.
For the Reynas to bring up this information now is wrong, especially when all parties have seemingly worked past the incident. They revealed this information to Gregg's employer, only when it was useful to them and their son's career. And despite Danielle's claims that she meant no harm, you know what you're doing when you tell someone's employer that kind of information. She wanted him fired. To claim otherwise is naive. It's incredibly selfish and disrespectful towards Rosalind as well, who has had a private, traumatic experience from 30 years ago thrust into the spotlight. Trying to ruin people's lives because your son didn't play at the World Cup is nothing short of insane.
So how does U.S. Soccer move on from this situation? Most agree that Reyna's place in the national team shouldn't be affected. But he's not blameless, no matter how little you think he knew about his parents actions. Reyna still acted like a child at the World Cup and was disciplined for it. In my opinion, he has no one to blame but himself for what happened in Qatar. If he showed up to camp and worked hard from the start, Gregg would have had no choice but to play him. He didn't do that, though.
At the end of the day, this is "Real Housewives" level drama for a national sporting institution. U.S. Soccer is run by a slew of ex-professionals, all of which were national team teammates in the late '90s and early 2000's. Everyone knows everything about each other. That can get extremely messy, as we saw at the World Cup.
Gregg's future as USMNT head coach is still uncertain. He's yet to sign a new contract, and the team is currently under the management of assistant coach Anthony Hudson. But the window is still open for Gregg to return. And while I don't think he should come back for purely sporting reasons, I don't think the incident from 30 years ago should be held against him in this process. He did a truly awful thing, but the information shouldn't have been revealed in this way. But Gregg was wrong to speak about Reyna's poor attitude to anybody after it had been dealt with in-house. In my opinion, there is simply too much baggage attached to Gregg right now to bring him back as coach, and that goes far beyond what happened in 1991.
In Reyna's case, he has long been considered the most talented American male soccer player. Moments like his stunning goal on Saturday have been few and far between in the last two seasons. Still at just 20 years old, he's struggled to stay on the field due to numerous injuries. But when Reyna is fit and healthy, his quality is undeniable.
That's what makes this situation so frustrating. He's really good! But right now, Reyna should not be worried about "shushing" anyone. It's his and his family's fault that he's in this situation. All Reyna can do now is continue to perform at a high level and hope that people are lenient towards his family's public missteps.