Men's Basketball Receives Rude Awakening in Atlantic 10 Play
Expectations skyrocketed once Fordham Men's Basketball's out-of-conference schedule concluded. The Atlantic 10's lackluster performance had many formulating that the conference was weaker than anticipated in preseason. What a perfect opportunity for Fordham to leap ahead of the rebuilding schedule to, maybe, make a run for the A-10 crown.
However, reality had a cold heart. Fordham was reminded they're not quite ready for A-10 contention.
Conference play opened against Davidson College in a stuffed Rose Hill Gym on Dec. 28. It was the perfect storm: Davidson didn't mirror their team from last year, with their only key returnees being Foster Loyer and Sam Mennenga, with a number of question marks surrounding the rest of the Wildcats.
Fordham came out of the gates extremely cold, finding themselves in a 22-9 hole at the 3:26 mark in the first half. Sophomore Zach Riley and junior Antrell Charlton were trying to keep the ship afloat, cutting into Davidson's lead to make it 22-14, but the Wildcats kept getting shots they wanted at will.
Desmond Watson and freshman Reed Bailey were the ones pumping gas into the Davidson machine. The former posted 15 points and 11 rebounds on the night while the neophyte also added 15 points of his own. Mennenga included a 13-point, 11-rebound double-double for the Wildcats.
Defensively, head coach Matt McKillop disrupted Fordham's offense with an aggressive trap defense mixed in with a matchup zone. He threw a ton of different looks at the Rams, spooking them completely. The Wildcats also held Fordham to 0-16 shooting from three in the first half. Not a single three went in for the Rams until the second half.
Graduate students Darius Quisenberry and Khalid Moore combined for eight points on the night, Quisenberry's lowest point total of the year. Fordham was led by senior Rostik Novitskyi with a team-high 12 points on the night, but the Rams were  killed on the glass. Davidson grabbed a whopping 50 rebounds as a team to the Rams' 31, with the Wildcats looking like the much rougher, tougher team from the opening tip.
In the second half, Fordham managed to outscore the Wildcats 29-28 and got within eight, but all momentum died when Moore touched a ball that was on the rim during a fast break. The play would be waived off as offensive basket interference, and Davidson cruised through to wrap things up 57-43.
In game two of A-10 play, Fordham hit the road to face off with the University of Rhode Island (URI) at the Ryan Center. The URI Rams struggled to get their season started, entering the matchup at 4-9 plus missing their starting center, Josephat Bilau, one of the many transfers brought in.
Like the Davidson game, Fordham started out slower than snails and found themselves in an 18-point hole in the first half. URI slaughtered Fordham from three, especially Malik Martin, who came into the matchup as a sub 25% shooter but hit five of his nine attempts from distance.
Quisenberry finally flashed his preseason third team potential, nailing back-to-back threes to spark a 12-2 run and chop the lead down to eight. Fordham did get as close as two, but URI used the final two minutes to push their lead out to six going into the break.
The second half began with consecutive threes from Martin, but Fordham punched back to slash the lead back to five. URI went back on a 12 point swing and maintained their distance from Fordham until the final 30 seconds of the game. Fordham would cut it down to two points, but were forced to play the free throw game ultimately losing 82-79 in spite of a brilliant last second effort.
Quisenberry bounced back with 33 points in this game while also leading with four dimes. Charlton helped with 13 points, which was really the extent of Fordham's scoring. The team shot 19-24 from the free throw line, an anomaly considering they've been a good free throw shooting team all year. Those five points would have won Fordham the game. The Rams were also much better from three, going 35% for the game, but lost the rebounding battle by two.
Winless in-conference, the Rams came home on Jan. 7 for a chance to avenge their mishaps against Saint Joseph's University. The Hawks came in on a two game skid against the league's top contenders in Saint Louis University and the University of Dayton. Billy Lange's team had another dynamic matchup for the Rams: a high octane backcourt of Erik Reynolds II and Cameron Brown.
Fordham's trend of terrible starts continued in this game as well, fortunately, it was only a nine point pothole which was easy for them to climb out of. It took time to weather the storm, thus resulting in Fordham grabbing the lead at the 4:48 mark in the first half by freshman Romad Dean. The lead would go back and forth, ending the first half in a tie at 32-32 after some more Fordham free throws.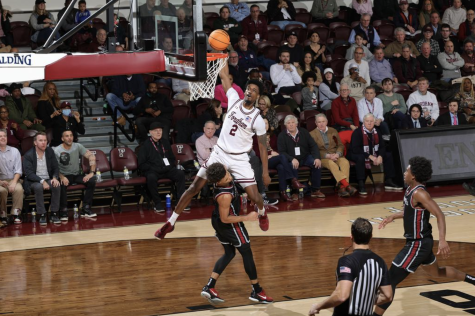 The second half was briefly in the control of Saint Joseph's until Fordham stole the lead back and never looked back. It took a total team effort from the Rams to secure their first win in A-10 play: every player who touched the floor scored. Sure, Quisenberry had the large point total of 15, but he had help: 10 points from Charlton, nine from Moore along with 15 rebounds, seven points from Zach Riley and six from Dean. Even freshmen Elijah Gray and Will Richardson provided solid bench minutes.
Momentum stemming from what epitomized a full team effort did not carry over against Dayton. The preseason A-10 favorite, the Flyers came in on a five-game run looking for their sixth win in a row at Rose Hill.
From the opening tip, Dayton put the Rams in their back pocket and never let them out. Dayton's commanding style led to a total destruction of Fordham inside when the Flyers scored 42 points in the paint.
DaRon Holmes put on a show in front of multiple NBA scouts, totalling 32 points and six rebounds on 12-15 shooting from the field. It was total domination for the Flyers both inside and outside who also received 12 points from Koby Brea on 4-4 shooting from three point land.
Brea, a native of Monsignor Scanlan High School in the Bronx, was also lifted by a huge gathering of his friends and family from Washington Heights. Brea (and Dayton fans) overtook the Rose Hill gym as the Flyers cruised to a 82-58 victory.
Richardson led Fordham with 13 points, catching fire in an extended bench role while exploiting some holes in the Dayton defense. Junior Kyle Rose did shoot 2-8 from range, but ended with eight points, five boards and three swipes. Moore added ten points of his own while Quisenberry struggled again on 1-7 shooting for only two points.
Fordham out-muscled the Flyers on the glass, 33-31, forced 16 Flyer turnovers and showcased a full court press that did swing some of those turnovers to the Rams. The Flyers played like preseason favorites and Holmes played like a player of the year pick, so losing to the standard is not something to be ashamed of, but a better effort from the Rams was expected.
The Rams hit the road to begin a three game road trip which began at La Salle University. The Explorers have hit a rut in recent times, but new head coach Fran Dunphy is steering them in the right direction.
Keith Urgo made huge changes to his rotation; benching Quisenberry and junior Abdou Tsimbila for Rostik Novitskyi and Richardson.
The changes seemed to have paid off, as Richardson scored a career high of 19 points while going 3-6 from distance. Quisenberry came off the bench and added 12 points of his own, seemingly more comfortable in the sixth man role. Urgo was also able to get lifts from Tsimbila who added six points, three rebounds and two rejections off the bench while sophomore Patrick Kelly added five points of his own.
A second half marathon by La Salle pulled the Explorers back into the game, eventually holding a lead in the final few minutes. On one of the final possessions, a loose rebound found its way to Khalid Moore who scored for the and-one opportunity. After La Salle tied things up at 64, Fordham came down with a chance to win the game.
Antrell Charlton played hero, pulling up for his patented mid-range jumper and nailing it with 0.3 seconds to go, handing Fordham the 66-64 victory on the road. Fordham stole a victory in a hostile environment, and one of the star freshmen played quite well.
As the Rams climbed upwards in the conference standings, now sitting at 2-3 in league play, their second of three straight road trips found them in Pittsburgh to face the Duquesne University Dukes on Jan. 21.
Duquesne came in as the best three point shooting team in the conference and turned the ball over the least. However, Fordham took advantage of their horrendous defense.
The Rams ripped the paint up, as they poured 32 total from that area while taking 22 trips to the free throw line. Fordham was also able to exploit Duquesne's lack of size defensively on multiple mismatches.
19 points from Moore, 14 from Quisenberry and 10 from Charlton propelled Fordham to their second straight victory 65-58. Three straight makes from long range pushed Fordham out in front from the three players mentioned previously.
The Rams now stand at 15-4 overall, and 3-3 in A-10 play. Fordham is firmly in the middle of the pack with a number of opportunities coming up to jump ahead. Their next game is on the road Wednesday, Jan. 24 against St. Bonaventure University, a team who went through a massive overhaul with not a single returning scholarship player from last season.