Making Mac and Cheese with Ease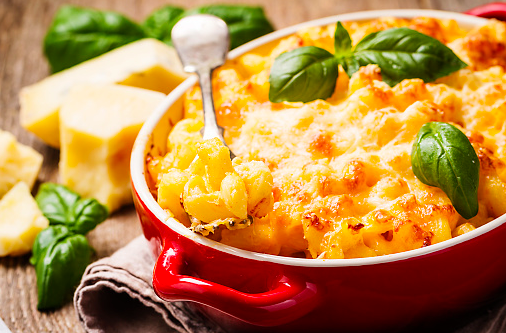 Let's be honest with ourselves: the hardest part of college is not the essays, Socratic seminars or the hours of studying — it's feeding yourself. Finding good food on a campus infamous for its virtually inedible menu is a challenge not for the faint of heart, and even if you manage to escape campus cuisine by getting a dorm/apartment with a kitchen, then you have to cook. Gross. Cooking good food can be time intensive or terrifying, causing a lot of people to spend exorbitant amounts of money eating out or eating soul-sucking food. What this column aims to do, then, is to empower college students to make good, cheap, easy food. Or, at the very least, to doctor the cheap, easy meals we have grown accustomed to. 
Therefore, for the inaugural article, let's start with a classic: macaroni and cheese. Known affectionately as "mac'n'cheese," "macaroni" or just "mac," this dish can be the best thing ever on a dark, cold night after a day full of studying. However, it can also be disgusting. The Cosi mac'n'cheese? Kraft instant mac? Velveeta? While they all definitely hit the spot when you're craving fast mac'n'cheese, I would be hesitant to label any of them as "good." They certainly don't hold a candle to home-made mac'n'cheese, where macaroni noodles are mixed with a sauce made of different cheeses and baked under a cover of bread crumbs. Just the thought of my mother's homemade mac'n'cheese makes the prospect of consuming Cosi's orange, gooey imitation a bit depressing. But after scouring websites like All Recipes and Reddit for easy hacks, I have found a few easy tips to incorporate some of that home-made magic into instant mac'n'cheese, without adding more than a few minutes of cooking time. 
First, add fresh cheese. Despite its obviousness, this step still raises questions of what cheese to add. According to Food Network, sharp cheddar is the best cheese to use for mac'n'cheese as it "strikes just the right balance between meltability and flavor." Blocks or bags of sharp cheddar are typically fairly cheap, ensuring that they fit into a college student's (often meager) budget. Whether you buy a bag of pre-shredded sharp cheddar or shred it on your own, if you mix it into your macaroni as you combine your cooked pasta with the orange sauce or powder from your stove-top dish, your meal will be improved tremendously. This also works for microwaveable, instant mac'n'cheese. How much shredded cheddar you add, however, is up to you. 
Second, don't be afraid to add some heat. My world changed forever when I added hot sauce to the Cosi mac'n'cheese in my freshmen year. Now, I know, you're thinking how amazing this revelation, which no one has ever had before, is, but it does significantly improve the flavor profile of subpar mac'n'cheese without more than a few shakes of your wrist. Cosi even keeps hot sauce on hand, making it even more convenient. More classic spices to include in your mac'n'cheese include garlic powder, cayenne and black pepper. These each lend different characteristics to the overall salty profile of mac'n'cheese, so I would recommend experimenting with each in order to discover what you prefer. 
At long last, here comes the most avante-garde  mac'n'cheese alteration: boil the macaroni noodles in milk, rather than water. The boiling milk extracts the starch from the pasta, making a thick liquid that combines with cheese to create a thicker, creamier sauce. Spend with Pennies suggests boiling the macaroni noodles in 2.5-3 cups of milk, and a quarter cup of water. The biggest difference from traditional stovetop mac'n'cheese, however, is that after the macaroni is done cooking, do not drain the noodles but mix the cheese directly into the pot. This should create mac'n'cheese with a richer, creamier sauce than its traditional stovetop counterpart. 
Combine this with the two tips mentioned before, and you're sure to up your mac'n'cheese game. 
At the end of every article in this column, I'll rate the recipe or tips described in the article on a difficulty scale likening them to the different dorm buildings on Fordham's Rose Hill campus. For example, as the first two tips in this article require only ingredients that you can keep in housing approved mini-fridges and a microwave, they would be rated a Martyrs' Court Lalande. As the final tip, however, necessitates the use of a stove and pot, I'm going to bump it up to a… Difficulty level: Martyrs' Court Jogues.