Fordham's ACE and Ascend Host Lunar New Year Celebration
Resplendent in lucky colors of red and gold, the students of Fordham's Asian Cultural Exchange (ACE) and Ascend Business Club (Ascend) rang in the Lunar New Year at a festively-adorned Bepler Commons on Jan. 27. Both student-led organizations celebrated 2023 being the Year of the Rabbit on the Chinese zodiac, which follows a duodecennial cycle.
Lunar New Year's Day (LNY) is celebrated by over 1.5 billion people primarily in Asian countries across the world — China, Vietnam, Singapore and South Korea to name a few. In these cultures, LNY is the sacred flagship of Asian holidays, an auspicious and superstitious date predicted to be one of optimism and peace. The holiday season is usually met with family gatherings, bountiful banquets and traditions that carefully wish for fortuitous health and prosperity for the coming year.
LNY kicks off the start of the lunar and lunisolar calendars, which are governed by the pattern of the Earth's moon phases. Lunisolar calendars feature anywhere from 353 to 385 days in a year, meaning that on the commonly-used Gregorian format employed by many Western nations including the U.S., LNY lands on a different day each year. LNY coincides with the first new moon of the lunisolar calendar.
ACE/Ascend are the leading Fordham student organizations that encourage the thriving of the customs lived by Fordham's diverse communities of Southeast Asian and Pacific Islander ancestry. "This is actually only ACE/Ascend's second year/time honoring the Lunar New Year," said ACE President and Ascend Vice President Arthur Liu, FCRH '23. "We gave it a shot last year and it was a big hit. I saw this as an opportunity to educate our university about a holiday celebrated by over 20% of the world, and have them join us in celebrating it as well."
Despite being ACE/Ascend's second official LNY party, the 120 people in attendance — many club members and guests alike — said they found themselves admiring an event that many considered to already be a well-honed and decades-long tradition. The evening began with attendants bonding over shared conversation and popular Asian snack treats, and both e-boards introduced themselves and wished the partygoers a 2023 of good luck.
"LNY was previously only recognized by the recently-established AAPI committee, which held great tabling events in the old McGinley, but as a freshman I wished our Fordham community would do more to best celebrate this cultural event, especially with our AAPI and international student population continuing to grow," said Liu.
The event featured a wide offering of food, spotlighting popular Chinese and Korean staples such as three kinds of peppery pork dishes, crispy roast chicken, sweet beef bulgogi, cellophane japchae noodles, kimbap sushi rolls, fish cakes and fried rice, culminating in a diverse spread.
The event also featured calligraphy tables complete with authentic brushes and ink to be used on red paper and traditional hongbao red envelopes. Though hongbao are customarily filled with money and given by married couples to children, ACE/Ascend stuffed scores of envelopes with gold-foil-wrapped chocolate coins and distributed them as parting gifts.
"Honestly a great event," said Rick Fu, Ascend advisor and GSB '24. "We had a lot of food and everyone enjoyed getting to know each other. I especially enjoyed the calligraphy segment where we wrote some auspicious Chinese characters."
"Our LNY event again fills me with wonder and appreciation for the ACE community," said ACE treasurer Alex Tamsi, FCRH '24, who attended last year's inaugural celebration. "Engaging in the visual nature of the Chinese language and learning from my peers allowed us to delve into the holiday, the intricacy of Asian history and the unexpected parallels it draws with other world cultures, such as Egyptian hieroglyphics."
"This year's turnout showed how much ACE is growing — I got to see faces both familiar and new, and hear stories about past joys and future hopes. Events like these invite the entire Fordham community to share in the celebration of AAPI heritage and to find something new, perhaps even something unexpectedly familiar," said Tamsi.
"I'm Hong Kong born and bred, so I'm used to celebrating LNY every year," Liu said. "In the Sinosphere, it's akin to American Thanksgiving or Islamic Ramadan. LNY is my favorite holiday as it was the only opportunity for me to visit my paternal grandparents and their family residing in Malaysia, my father's homeland. The season has connected and still connects me to all my relatives abroad."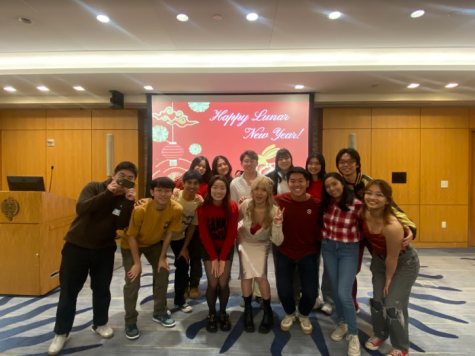 The ACE's Lunar New Year celebrations came after their "DYNASTY" event in November 2022, which helped many students relax in the run-up to finals. In the future, ACE looks to February, as the club is attending a LNY parade in Manhattan's Chinatown to further ring in the Year of the Rabbit.
"I hope ACE and Ascend continue to celebrate LNY together and make these young events annual Fordham traditions," said Liu.
"The e-board members work hard to make events like this a success, but ultimately, it's the warm people who come with open minds and open hearts that make these events so meaningful," said Tamsi.