Explore the Quiet Charm of Brooklyn's Park Slope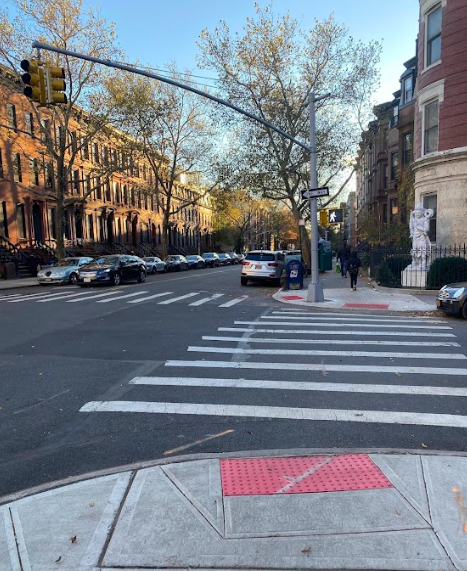 Sitting west of Prospect Park, between Fourth Ave. and Prospect Park West (which becomes Ninth Ave. farther south), Park Slope is a gem in western Brooklyn and exhibits many qualities of a neighborhood you won't find much else of throughout the five boroughs. 
Park Slope lies right below the D train, about a 50-minute ride from Fordham Road.   
The extensive growth of the neighborhood into an established residential community coincided with the development of Prospect Park and the building of the Brooklyn Bridge in the late 19th century.  
At first, Park Slope was a predominantly middle-class neighborhood. However, mansions were strategically placed on Prospect Park West to take advantage of the parkside views. This wealthy strip directly bordering Prospect Park was known as the Gold Coast. The neighborhood was named "Prospect Hill" and "Park Hill Slide" to rightly advertise the neighborhood's proximity to the 500-acre park before landing its current title of Park Slope. 
I think of Park Slope as the Upper West Side's introverted younger sibling: quieter, nicer and not quite as old. However, just like its older brother or sister, it has plenty of cafes and vintage stores, architectural marvels in its brownstones and plenty to foster one's creative side. 
While not known as a prime dining destination in its own right — when you're in the same city as Jackson Heights and Chinatown, not claiming such a title still puts you well above the restaurant scene in most major cities — Park Slope is home to my favorite french toast in the city. 
Little Purity's challah bread french toast is by far the best thing on the menu, which accommodates a student's wallet, taste and appetite. A classic diner set on the lower end of Seventh Ave. has anything a typical diner would and is of the highest quality.
On a nice day, an outdoor meal (any of the three), at Stone Park Cafe on Fifth Ave. will leave no visitor disappointed. The braised short rib is highly recommended and their variety of omelets was decent –- coming from someone who has never loved eggs,  I can only assume this means fans of eggs would love the quaint spot's version of the staple breakfast food. 
For a unique take on classic desserts, Goodiez dessert shop holds a cereal bar and frozen yogurt stand. Italian ice, slushies and their famous frozen chocolate bananas are also packed into this small shop on Seventh Ave. With over 30 flavors of both ice cream and Italian ice, a sweet tooth can be satisfied here in literally hundreds of ways. 
While the neighborhood is notable (potentially infamous), for its recognizably family-friendly atmosphere, college students have plenty to do in "The Slope" (that's what the cool kids call it) when it comes to their hobbies and interests. 
The Brooklyn Conservatory of Music offers world-class music lessons to students of all ages and skill levels. It also offers a broad range of classes in different musical areas, from American and Latin jazz to African drumming. 
Located on Prospect Park West on the southwestern tip of the park is Nitehawk Cinema. A movie theater specializing in both repertory and current films, the building also holds a bar and arcade with retro video games. With a second location in Williamsburg, Nitehawk Cinema in Park Slope is showing classics such as "Wings of Desire" and "Brazil," as well as all of the 2023 Oscar contenders this month. 
Park Slope feels like a hipster version of your hometown's downtown, but four or five times the size, and 10 times the beauty. It feels like New York in all the best ways, and refreshingly feels like a break from the city without giving up New York's rich culture and history.