Celebrating Platonic Love on Galentine's Day
Rory Donahue – Social Media Director
When Valentine's Day comes around, it's easy to be down if you don't have a significant other, but there are different things you can do to celebrate the romantic holiday. My friends and I decided to venture into Manhattan on Sunday for a fun "Galentine's Day" brunch at Carroll's Place in Greenwich Village. We shared delicious food and spent quality time together, which was much needed in our busy schedules. 
Among Fordham students, Carroll's Place is known for having low-cost food for the city, so we all split the margherita pizza, french toast and egg plates, which were all delicious. I encourage you all this Valentine's Day to rethink the way the holiday is traditionally celebrated, and make it about self-love, relaxation and learning how to treat yourself instead. Spending the holiday alone may seem daunting, but I believe you can make it your own special day!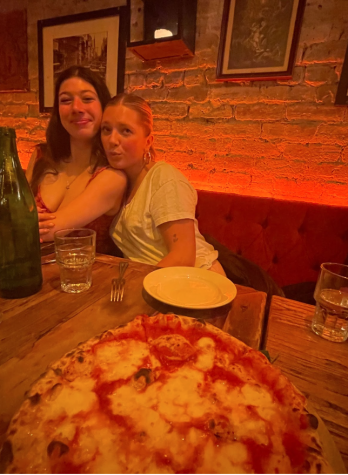 Grace Campbell – Digital Producer
Valentine's Day has always been one of my favorite holidays. I love the gimmicky candy hearts and boxes of chocolate everywhere. This year, I'm especially excited because my friends and I have decided to celebrate "Galentine's Day." While I believe this tradition probably started out bitterly, for when someone didn't have a "proper" valentine to celebrate with, it has actually turned into one of my favorite times of the year. Whether you have a romantic partner in your life or not, Valentine's is just about showing love for people in your life, no matter who they are. This year for Galentine's Day, we have big plans. Plans that include buying premade sugar cookies and icing to decorate with. We'll spend the night playing board games, undoubtedly listening to Taylor Swift, and we might even round out the night with a cheesy rom-com. And honestly, I can't picture a more perfect night. To me, that's what Valentine's Day is all about. It's not about doing anything crazy, but is just a day where we can remember to show the people in our life how much we love them. It's a day to show up for people who show up for you.
Nicole DiPietro – Contributing Writer
For Valentine's Day this year, my closest friends and I are celebrating with a secret-Santa-type exchange on the girliest day of the year: Super Bowl Sunday. While yes, we do plan to pass around surprise Galentine gifts wrapped in pink and red hearts, and juxtapose all of the rather manly traditions that come along with this special day, we are going to have most of our fun watching the big game. In fact, my friend Grace (an Eagles fan and Philly native) has worn her Eagles hat with pride almost every day since their NFC win against the 49ers. The real show this weekend however, for most of us girls, will be Rihanna's comeback performance during the game's halftime. Over the past seven years, she has left her fans itching for new music since her last album release all the way back in 2016 with her work of art "Anti." Cooking dinner, picking up sweets from the Morrone bakery on Arthur Ave and revealing the trinkets and gifts we'd been keeping secret since we planned the swap is working up to be the best pre-game ritual of any game I've watched. Between the highly awaited musical return of Rihanna, the apartment-made Super Bowl appetizers and a blissful exchange of gifts, my Valentine's Day festivities are to be the sweetest start to a week full of love.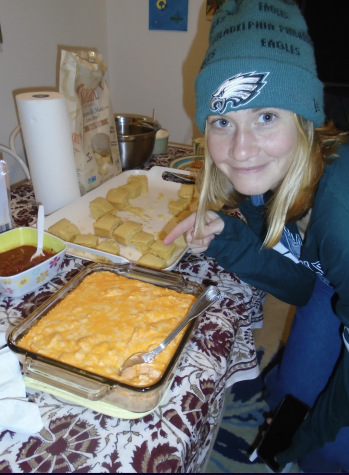 Julia Chorun – Contributing Writer
Valentine's Day is about love, and personally, the title of "the greatest love of my life" goes to my closest friends. But hey, who doesn't enjoy a spontaneous, romantic night out? And what better way to bond with your friends and potential love interest at the same time, than a double date? Full disclosure: my friends and I aren't exactly looking for a serious relationship, but that doesn't mean we're opposed to indulging in Valentine's Day altogether. Our plan this year is to hit the streets of the city, walk up to an attractive stranger and ask them to come out with us on Tuesday. But there's a sneaky twist: these targets won't know where we're taking them until the holiday and, even more exciting, they won't know that they're all coming to the same place! Double dates are often awkward unless everyone is familiar with each other, and since I'm not a monster (completely), we're each going to stick to our own partner in private. My friends and I are all interested in boys, which means there are bound to be some red flags on at least one of our dates. That's why it will help to be in the same place so that when one of us needs a rescue, a coordinated trip to the bathroom or a curated cover story will be easy. Truthfully, we've seen too many TikToks about this exciting, undercover mission not to partake, especially on Valentine's Day. The plan works for everyone, whether you're looking for deep emotional commitment in someone new, or even if you have major trust issues and you just want some excitement. No matter what you're hoping to feel or not feel, the point is to go through it knowing your friends are there, quietly supporting you and having your back if something goes wrong