Highbridge: The Heart and Soul of The South Bronx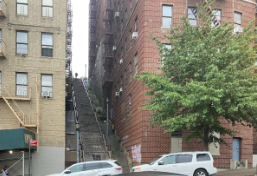 I first stepped foot in the Bronx long before I became a Ram. Probably a few years before I had even heard of the school I would eventually call home. 
It was September 2015 on a beautiful late-summer day. As my dad and I left our hotel on the Upper West Side to make our way up for a Red Sox-Yankees game donning our Sox gear, I could sense a pulsing energy as the B train departed the familiar streets lining Central Park West and departed into uncharted territory. 
The Bronx felt like a different planet in all the best ways. An energy of heart and soul, grit and determination that made even certain aspects of Manhattan seem stale and dull. 
I remember distinctly the pushcarts, fruit stands and drill music blasting from speakers both inside and outside of the 161st street station. This was Highbridge. Unfiltered and unapologetically itself. I've been back a few times since that day and always forget how vibrant the neighborhood is and have made use of its proximity to Fordham's campus — a 20-minute D train downtown to Yankee Stadium.  
Named after the High Bridge, which connects the neighborhood to Harlem and was first used as an enclave for the elite, who built large homes to overlook the Harlem River. Highbridge was originally an Irish-American neighborhood from its initial development in the 1840s to the 1960s. Now, Highbridge is mainly home to Dominican, Puerto Rican and Black residents. 
Highbridge has given us magnates of 21st-century entertainment, including Tracey Morgan, Cardi B and A Boogie wit da Hoodie. 
It would be silly to suggest that Highbridge has a more notable landmark than the iconic Yankee Stadium, as the neighborhood has been home to the Yankees for almost 100 years, the first Yankee Stadium, which stood in Highbridge from 1923 to 2008, and the new and current home of the Yanks, which broke ground in 2009. 
It would also be equally as silly to not go any further as to what Highbridge had to offer outside of a seat and a hot dog between March and September. No, I didn't mean to say October. 
Highbridge's main drag is Jerome Avenue, which later meets up with Fordham Road farther north. 
Like many neighborhoods in the south Bronx, Dominican food is in no short supply, and the prices often reflect such an abundance. Don Sazón Restaurante, cornering 165th and Woodycrest Avenue has staples that have my mouth watering as I write. Their popular beef stew will run you less than a swipe at the dining hall, and their chicken soup is as much as a trip on the subway. 
For an elevated take on the same food Don Sazón has to offer, Phoenix Bar and Restaurant off of Ogden Ave. and 171st has a dance floor and live music most weekends to work off the calories of their signature sirloin steak or grilled chicken.  
For an American-centric night, Billy's Sports Bar, lying outside the southeastern corner of Yankee Stadium is a popular venue to cheer on sports teams in an electric atmosphere that's packed to the brim for most New York teams' games. 
Todd Phillips' "Joker" has an iconic "stair-dancing scene" that takes place in the neighborhood. Joaquin Phoenix's Oscar-winning performance came straight from a step-street that connects the avenues of Anderson and Shakespeare at 167th street in Highbridge.
I'm not looking to fool you. Highbridge is not hip. It's not artsy, and it's certainly not trendy. But that can be good. Highbridge is a neighborhood that knows exactly what it is, a frenzy of Dominican culture, the heart of the South Bronx and an area that reminds me time and time again of all that New York has to offer.