Kaitlyn Downey: One Final Milestone
According to Bill Parcells, "Availability is the best ability." It also doesn't hurt if you happen to be really good when you are available. Both are true in the case of graduate student forward Kaitlyn Downey. 
It's no overstatement to say that Downey, now in her fifth year with the Rams, is one of the all-time greats in Fordham Women's Basketball history. In a January game against St. Joseph's University, she set the program record in games started with 127. That number now stands at 136 and counting, already 10 higher than the previous record holder. Back in November, she became just the 25th Ram in program history to tally 1,000 points. She ranks top five in career rebounds and three pointers and top 10 in blocks. Above all else, she has never missed a game. 
Downey's 142 consecutive games played is four short of Samantha's Clark record of 146. If Fordham wins enough postseason games, she'll have a chance to tie or possibly even break the record. 
The road to get here has not been without its challenges, particularly in this final season. Downey has grappled with a lingering knee injury that has forced her and the athletic staff to find creative ways to keep her as healthy as possible.
"I call this year my grandma because I'm a fifth year and every part of my body hurts, but I've had some knee issues that I've never really had until this year," says Downey. "So just trying to find the happy medium of practicing on it as much as possible and getting the rest it needs between games." 
Associate strength and conditioning coach Josh Greer and assistant athletic trainer Allie Griffin have played an instrumental role in this process. This includes modifying lifts and workouts based on her level of discomfort while still ensuring that she's gaining strength.
"With Kaitlyn, it's easy because she's been here, she's experienced, so she knows how we train and the effect we want to get out of it," says Greer. "She knows her body at this point, right? She knows how to get through the season and what we have to do."
Griffin adds, "She's come a long way. As time has gone on, we've been able to see specifically what in practices is bothersome and what specifically with conditioning not be bothersome. So we've been able to curtail that to make sure that her pain is very low on the court."
"I would say 'Kiki' is one of our top gym rats, even though she's going through all of those nagging injuries," notes Fordham head coach Candice Green. This season marks Downey's fourth as a captain of the Rams, an honor she's enjoyed since her sophomore year. "It takes some super toughness. Especially for someone like Kaitlyn who's probably always in pain, right. So I definitely think it shows everybody how to be tough."
On top of the physical pain comes the unexpected and devastating turns that can accompany each season. This year, that manifested in an injury to graduate student forward Meg Jonassen. The only remaining teammate from Downey's first year, Jonassen had missed just three games in her career prior to a season-ending knee injury. 
Downey and Jonassen have captained and started in the front court together for the last two seasons. Off the court, they're roommates, and have been inseparable since their inaugural year. "Yeah that was heartbreaking because we were so close to being healthy together for five years," said Downey. "On the court, Meg is definitely one the hardest working players I've ever played for. She does the position that gets no shine sometimes, and she does all the dirty work for our team. I think we feel it now down the stretch a little bit."
"Meg's been with her every step of the way," adds Greer. "You can tell she's a little bit different in the weight room. It's someone you've done something with every single minute of every single day. And then she's not there for that part of it. When they stepped foot on campus five years ago, they were attached at the hip. So her navigating something new has been a little challenging as well."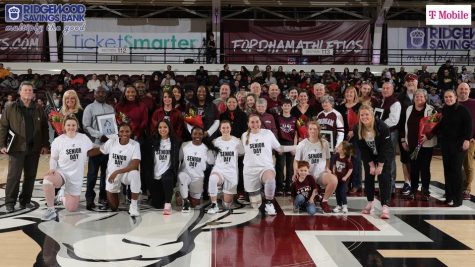 Downey and Jonassen share an experience that only senior guard Asiah Dingle has enjoyed from her time at Stony Brook University: a conference championship. As a freshman, Downey made 29 starts on a Fordham team that won the 2019 Atlantic 10 Tournament. 
"It's really hard every year you don't win," notes Downey. "I think we set the bar so high as freshmen and we're like 'Oh this is easy, let's do it every year.' But then again, you're a freshman jumping on the backs of the seniors ahead of you. So of course you never understood the other parts of how we win and what made us successful."
With back to back wins to close out the season, the Rams earned the #4 seed and a double bye in this year's A-10 tournament. Fordham will have to win at least two postseason games for Downey to have a chance at tying the program's consecutive games played record. 
"Records like that I think are pretty awesome," says Downey. "But sometimes I look back and I think of fifth years as you kind of get to pad your stats a little because not everyone gets that extra year. So not that I don't think the record means anything, but I probably won't think about it up until the point if it does happen."
Downey's championship pedigree dictates the yearly expectation. Every season, the goal remains the same. And when put into that perspective, personal milestones fall to the wayside. The focus lies solely on winning a championship in this final run. 
"It would be a really amazing feeling to sandwich a conference championship at the beginning and at the end. So I think about that quite often and how nice of a storyline that would be."