Fordham Community Celebrates Mardi Gras Leading Up to Lent
On Feb. 21, the Fordham community celebrated Mardi Gras in different ways and then transitioned into a season of Lent.
While Mardi Gras is a popular celebration for many people, it is also originally a Christian holiday, and it dates back thousands of years ago. Because of its connection to Lent, it holds special importance for Christians and especially Roman Catholics.
Mardi Gras is French for "Fat Tuesday," which is the day the celebration always falls on. Fat Tuesday comes from the tradition of using up certain items in the pantry before the Lenten season, where fasting then occurs. After Fat Tuesday, Ash Wednesday marks the beginning of a period of penance and reflection, which leads up to Easter.
Mardi Gras holds a special meaning specifically for New Orleans, where the first celebration took place in 1699. President Tania Tetlow, who grew up in New Orleans, sent a message to the Fordham community about the celebration.
"Where I grew up, we take getting ready for Lent very seriously. New Orleans, along with a collection of cities around the world, celebrates Mardi Gras with astonishing creativity," wrote Tetlow. "Going back centuries, Carnival has been a time of masking, of upending structures of race and gender, a time to mock the power structure with impunity."
In her message, Tetlow included that McShane Campus Center would be lit purple, green and gold leading up to Mardi Gras.
Emma Eitmann, FCRH '26, who is from New Orleans, celebrated the holiday.
"I celebrate Mardi Gras by spending time with my family and friends at parties and parades, eating traditional New Orleans food like crawfish, poboys, and king cake of course," said Eitmann. "It is a time when the whole city is really able to come together, and I think that's what makes Mardi Gras so special."
Eitmann finds that for her Mardi Gras is a time of preparation and celebration.
"Mardi Gras for some is preparation for lent and for others just an excuse to get together with friends and family to have a good time. For my family, it's a bit of both," said Eitmann.
Campus Ministry also celebrated Mardi Gras on Feb. 21 with food and music in McShane Campus Center.
Kathryn Anderson Kuo, associate director of Campus Ministry for liturgy, said that the Campus Ministry Mardi Gras party is a tradition.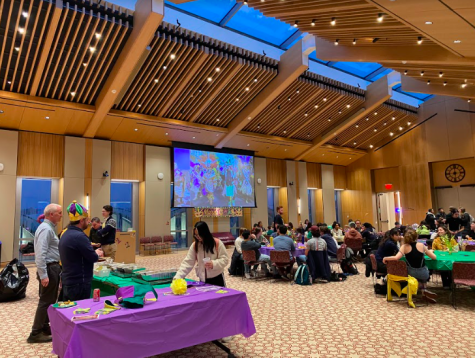 "Campus Ministry's annual Mardi Gras party is a long-standing tradition," said Anderson Kuo. "This was our first year hosting the party after a two-year hiatus for COVID-19. We were thrilled to be able to host the party safely again."
During their party, Anderson Kuo explained that they honor religious traditions connected to the holiday.
"Mardi Gras, which means Fat Tuesday, and the Carnival season began as a way to use up meat and rich foods before Ash Wednesday, the first day of Lent, when Catholics and many other Christians abstain from meat and other treats," said Anderson Kuo.
"We began the party with a prayer and a reflection on the origins of Mardi Gras and the spiritual meaning of Lent," said Anderson Kuo. "That said, we make an effort to ensure the party and reflection are inclusive of everyone. One doesn't need to be Christian or even religious in order to find something to reflect on in Lent's invitation to admit when we've fallen short and commit to doing better, and, of course, everyone can enjoy the Cajun food, music and sweets."
Anderson Kuo said that after Mardi Gras, Lent is a season of penance in preparation for Easter.
"We reflect on Jesus' suffering in order to celebrate his Resurrection at Easter time. Lent is a time to clear our minds and lives from distractions that keep us from God, engage in spiritual practices that deepen our faith, and make sacrifices as a way to repent of and atone for things we've done wrong," said Anderson Kuo. "Catholics are also encouraged to fast on Ash Wednesday and Good Friday and avoid meat on Fridays."
During the Lent season, Campus Ministry has various programs, which can be found on the Fordham website. The events are available to all Fordham students to attend.