Men's Basketball Wins Three of Last Four, Finishes Third in Atlantic 10
The Fordham men's basketball team continues to dismantle opponents in a multitude of methods; between blow outs or close affairs, the Rams have won games with every possible style.
The quest for Atlantic 10 supremacy continued against conference basement dweller Loyola University Chicago in Chi-town last Wednesday.
The Ramblers have been on the learning curve, going from the Ohio Valley Conference to a much more competitive A-10 with a ruthless opening season.
Sitting in last place, and being notorious for their performances at home, the Ramblers resembled everything you could want out of a trap game on the road. A much more talented, stronger Fordham side found that out rather quickly when the Ramblers went toe-to-toe with Fordham in the opening minutes.
26 points from graduate student Darius Quisenberry were the deciding factor in the game, especially when he drained the game winning three to put Fordham up two late in the second half. 19 points from graduate student Khalid Moore gave Fordham enough leeway to tread water in Chicago against Loyola-Chicago.
The Ramblers were led by Philip Alston who added 19 of his own with a helping hand from Bryce Golden who dropped 13.
Quisenberry saved the day with a huge three to go up 67-63 late, but then Loyola chopped the lead back down to one with 34 seconds to play.
Fordham was deadlocked in a very tight contest that saw 14 lead changes, but an eight-point boost from junior Abdou Tsimbila and two huge free throws with seven seconds left allowed for the Rams to escape 71-69.
Even after junior guard Antrell Charlton bricked two free throws in the wee seconds of the game, Loyola failed to get a shot off before the final buzzer. It was no secret the Rams should have beaten Loyola by double figures, but as the coaching staff has preached all year, a win is a win.
A return to "Rose Thrill" on Saturday was paramount for the group. Not only would they be able to feed off the crowd, but they were also tasked to perform in front of Fordham's greatest team in school history.
In came the University of Rhode Island for a rematch from January that saw URI escape 82-79 in what was a herculean effort. Rhode Island gave Fordham all they could handle, once again generating six lead changes.
The second-to-last place Rhode Island gave Fordham fits when Malik Martin killed them from three. A player who was shooting under 30% from range for the season went a perfect 3-3 from distance, leading all scorers with 17 points.
Three Rams hit double figures in this game between Quisenberry, Moore and senior Rostik Novitskyi piling 14 points each to lead the Fordham charge. Freshman Will Richardson included nine of his own while Rose added eight points, eight rebounds, four assists and three steals in the effort.
Tsimbila added eight points and seven boards alongside three rejections despite his 3-11 shooting from the field. Charlton, who came off the bench, only put up five points and four dimes but did turn the ball over three times.
Fordham was able to pull away 74-71 and secure a second straight win over an A-10 basement dweller but was yet another close call in the payback win.
The Saturday tilt was headlined by the 1971 team celebration and the jersey retirement of Charlie Yelverton, objectively one of the greatest players in school history. Yelverton, alongside head coach Digger Phelps, led the Rams to a 26-3 record that saw them end the year ranked ninth in the nation.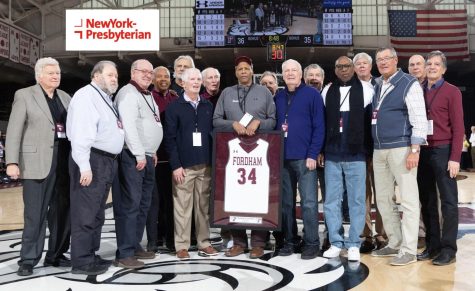 The ceremony saw his number 34 reside among those of legendary Fordham greats; Ed Conlin, Bob Mullens, Anne Gregory-O'Connell and Yelverton's teammate, Ken Charles, in the rafters of Rose Hill.
His senior year saw Yelverton win the 1971 Haggerty Award, receive UPI Third Team All-American honors and score over 1,000 career points at Fordham while averaging 23.3 points and 12 rebounds en route to a sweet 16 appearance in the NCAA tournament and a third-place regional finish.
The halftime ceremony was met with Yelverton's jersey encased in a shadowbox, and him witnessing his jersey being unveiled to those in attendance at Rose Hill surrounded with thunderous applause.
As Fordham continued their quest for the coveted double bye, the team headed south to the commonwealth one more time to square off against George Mason University, a team that Fordham has owned since they joined the conference in 2013.
With an all-time record of 10-4 against the Patriots and two hard fought wins under their belt, the Rams went into EagleBank Arena with the utmost confidence. In spite of all this, Kim English's group came out as the aggressors and pushed the Rams around in the post.
George Mason's game plan was simple: eliminate the Fordham bigs and slow down Quisenberry with overly physical tactics. Josh Oduro was able to contribute to both Tsimbila and Novitskyi both fouling out of the game, leaving Fordham to play freshman Elijah Gray as the lone true center.
28 paint points and 38 team rebounds propelled the Patriots in what was a truly physical game. Josh Oduro poured on 17 points on 6-14 shooting. Ronald Polite also added 12 points, seven rebounds, and seven helpers simultaneously going 7-8 from the free throw line.
Fordham was led primarily by Moore with 21 points, 11 of which came from the charity stripe. Despite the horrendous 3-25 shooting from three, Fordham was able to get the game into overtime with a heroic layup from Kyle Rose.
Unfortunately, the Rams crumbled under pressure and missed some free throws at the end of the game. Even with Oduro fouling out and Davonte Gaines getting hurt, the Patriots found heroics from Saquan Singleton and Malik Henry who had a huge game changing dunk late in overtime to take the lead. In the 64-58 defeat, Fordham missed their chance to clinch the double-bye a game earlier than they would have planned.
All was not lost though, with the final game at Rose Hill against Duquesne University last Saturday on Senior Day. With the celebration of Quisenberry, Moore, Novitskyi and Patrick Kelly, the team had extra incentives to send the seniors out right against the Dukes.
This Duquesne team is a vastly improved unit from last year's six win disaster, headlined by Miami Ohio transfer Dae Dae Grant. Coming into Rose Hill, Fordham and Duquesne traded leads before a massive altercation sparked what would be a turning point in the game that led to a Duquesne loss.
At the 3:44 mark in the first half, RJ Gunn fouled Quisenberry on a basketball play, then proceeded to throw him to the ground that resulted in a massive scuffle. Gunn was assessed a technical foul and a flagrant one foul, which gave Fordham four free throws (all of which were made) and possession.
The ensuing possession saw Khalid Moore draw an and one, hitting the free throw, adding up to seven points in a matter of seconds.
The Rams ran wild the rest of the way; chewing up Duquesne by 27 to secure the double-bye for the A-10 tournament in Brooklyn. Moore and Quisenberry closed the curtains on a phenomenal regular season, with Moore posting 24 points and 9 rebounds and Quisenberry tallying 21 points to close out their career at "Rose Thrill."
The most telling part of the game was the three-point shooting: 9-21 from distance for 43% for the Rams to lock up the double-bye in the conference tournament.
With Fordham securing the third seed in the A-10 tournament, they'll be back in action after a much needed rest. Their quarter of the bracket saw La Salle University defeat Rhode Island in round one, with La Salle advancing to face Duquesne in the second round which then leads to Fordham in the quarterfinals.
It is also expected that a massive following of Fordham fans will be in attendance in what could be a de facto home game for the Rams at the Barclays Center in Brooklyn. The game is scheduled for a 7:30 p.m start.