Remembering Fordham Alum and Broadcaster Vincent Scully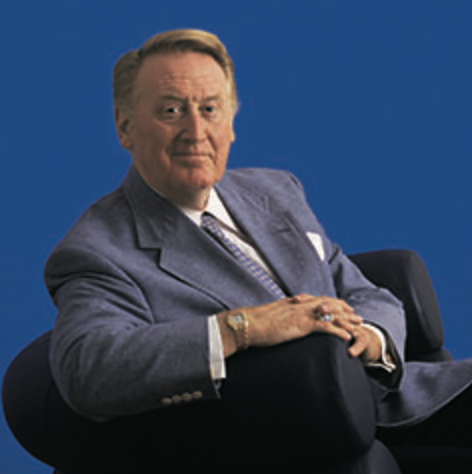 On March 22, 2023, a memorial service was held at Saint Patrick's Cathedral in honor of Fordham alum, Vincent Edward "Vin" Scully.
Scully passed away on Aug. 2, 2022 in Hidden Hills, Calif. A life-long member of the Fordham community, Scully graduated from Fordham Preparatory School in 1944 and spent two years in the United States Navy. Upon completing his service, he enrolled at Fordham University and graduated with a degree in communications in 1949. He helped create the WFUV radio station and wrote for the sports column of The Fordham Ram.
The mass was primarily organized by the Fordham Campus Ministry and Office of the President. According to Augustine Preziosi, FCRH '23 and member of Fordham's Campus Ministry, the mass was attended by about 300 people, in addition to President Tania Tetlow, who led the first reading of mass. "Vincent was a man of many interests," said Preziosi. "Whether it was in New York or on the west coast, he fostered community wherever he went and at this memorial, all those communities from every chapter of his life converged alongside Vincent's family and his Fordham family."
Preziosi, who serves as the altar server on campus and served at Scully's mass, was joined by James Haddad, FCRH '26, to assist Cardinal Timothy M. Dolan in holding mass, alongside many other great Jesuits at Fordham to remember Scully and serve his family in remembering him as a great member of the Fordham community.
During the mass, Father Joe Parkes, former president of Fordham Prep, friend of Scully and former Provincial of the Northeast Province of Jesuits, gave an anecdote in the form of a homily. He explained that one year during the playoffs, various players of the Brooklyn Dodgers were coming back from a late night of celebration. That morning, paparazzi were coming out to bestow shame on the Dodgers players who came in late after a night of partying. Along with some of those players, Vin Scully came in at 6 a.m. Naturally, alongside the Dodgers, Scully was suspected of having had a late night of fun and was questioned. Scully responded saying that he had not been celebrating, but instead, was returning from morning mass at the Saint Patrick's Cathedral.
"This exemplifies the unbridled faith that Scully had. Moreover, it shows how faith acted as a foundation in Vin's vocation as a sports broadcaster. He was always a man of deep commitment, community and generosity who always remembered his Bronx roots as a Fordham Ram," said Preziosi.
In regards to how the mass went overall, Sarah Flaherty, FCRH '23, described the mass as "lovely." "I believe that the baseball team was at the mass. It was lovely to see the team there since Scully loved baseball. It was a very nice display of solemnity even though the team may have not known him personally. I also thought that it was very nice that they included Fordham Campus Ministry individuals in the actual mass itself. I think that it brought the Fordham community into the greater community of New York, as well as a greater part of Vin Scully's family altogether." Scully was born on Nov. 29, 1927 in the Bronx to Irish immigrant parents, but grew up in Washington Heights. At the age of seven, Scully lost his father to pneumonia in 1932. To battle the family grief, Scully's mother, Bridget, took her son to visit family in Ireland. Upon returning, his mother remarried to Allan Reeve in 1935, an English sailor who would remain as Scully's father figure. Ultimately, Scully's half-sister, Margaret, was born. Unfortunately, she passed away of brain cancer in 2002 at the age of 65.
Upon graduating from Fordham University, Scully was hired by Red Barber, a famous sports director of the CBS Radio Network, to cover college football. At CBS, Scully served as the Dodgers' primary announcer for more than seven decades. The press box at Dodger' Stadium is named after him, in honor of his long tenure. Although Scully would become known to many for his impact on baseball, he did occasionally broadcast for the NFL.
During his lifetime, Scully married Sandra Hunt in 1973. In 1982, Scully won the Ford C. Frick Award and was inducted into the National Baseball Hall of Fame. Later on in his career, The National Academy of Television Arts and Sciences awarded Scully with the Lifetime Achievement Sports Emmy Award in 1996.
He was also inducted into the Sports Broadcasting Hall of Fame and the National Association of Broadcasters Hall of Fame. In 2008, WFUV presented their own version of the Lifetime Achievement Award known as the Vin Scully Lifetime Achievement Award in Sports Broadcasting. The award aims to be an inspiration for generations of students to be guided by Scully's standards of excellence. As a result of his impact, Scully also became known as the "patron saint" of WFUV sports. Finally, in 2016, Scully became the recipient of the Presidential Medal of Freedom, which is the highest civilian award of the United States. This honor was awarded to him by President Barack Obama. That same year, Scully retired from broadcasting and voiced his final game at AT&T Park when the Dodgers faced the San Francisco Giants.