Fordham's Graduate Student Workers Union Addresses Nondisclosure Agreements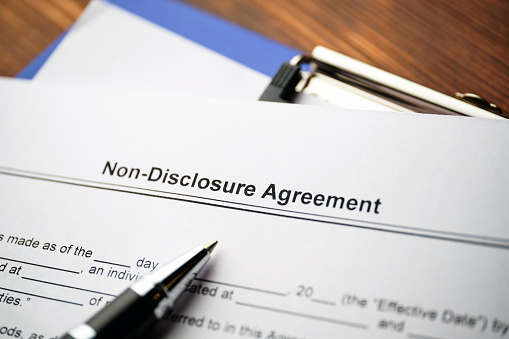 Fordham's new Graduate Student Workers Union (FGSW), which called a job action this week, has given a long list of demands to the university, including better pay, improved working conditions and paid child care for graduate student workers with small children. While graduate student unions all over the country are trying to address these same issues as they unionize, there is one unprecedented issue on FGSW's list: nondisclosure agreements (NDAs). 
Benjamin Van Dyne, a Ph.D. graduate student in Fordham's theology department, said cases of harassment and discrimination occur at Fordham on a daily basis, some of which could entail the use of NDAs. This is why Van Dyne and other organizers of FGSW say they are trying to negotiate a proposal that would have Fordham ban the use of NDAs in cases of harassment and discrimination. FGSW said this would make Fordham the first university in America to do so. 
"If Fordham said 'yeah, we can guarantee categorically that no NDAs have been used,' no one would be happier than us," Van Dyne said. "Because what that would mean is that, actually, there's not a lot of harassment and discrimination going on. And making sure that's not going on is our goal."
However, Fordham President Tania Tetlow has on multiple occasions said that Fordham does not ask those making complaints about sexual misconduct to sign a nondisclosure agreement. "You may fire someone for sexual harassment and have them sign an NDA because what they will do is go say the whole thing was made up and trash the poor complainant. So that is very much worth an NDA," Tetlow said at a Student Town Hall held in April. "This isn't the issue. The issue is whether you ask the complainant, someone who brings the case, is brave enough to come forward. And we do not do that."
Bob Howe, associate vice president for communications and special adviser to the president, also said that Fordham does not make those who bring forward a complaint use nondisclosure agreements, though it has asked those accused of sexual misconduct to sign one. "The University does not ask complainants to sign NDAs; the University will sometimes ask respondents to sign NDAs to prevent them from misrepresenting the outcome of a student conduct or human resources proceeding (and possibly defaming the complainant in the process)," Howe said.
FGSW members are holding a walkout from April 24-26 in response to what it sees as the administration's lack of response to their concerns, including over the use of NDAs. Although the FGSW has been unable to point to any specific examples of NDAs being in place, it is taking the position that those kinds of agreements are inappropriate when relating to cases of sexual misconduct and are negotiating to see them banned by the university.
A nondisclosure agreement is an agreement that certain information will remain confidential. FGSW addressed the NDA issue in April when it hosted a talk by Rachel Robison-Green, an assistant professor of philosophy at Utah State University and author of "Sworn to Secrecy: The Ethics of Confidentiality Agreements." Robison-Green said power dynamics often come into play when an NDA is used in cases of discrimination and harassment, especially in universities. Because of this power struggle, Robison-Green said the use of NDAs is unethical. 
"NDAs protect power," she stated at the talk, citing their ability to allow perpetrators to go free. "Nondisclosure agreements can lead to pain and suffering for individuals and for communities at large." 
Robison-Green noted that this rationale is specific to cases of sexual harassment or discrimination, specifically where there is a marginalized party involved. She said that NDAs may give protection to those who might agree to a settlement over a personal or embarrassing issue, especially when both parties sign temporary contracts, so as not to intervene with ongoing legal situations.
FGSW says it is addressing the use of NDAs because it finds them to be unethical. Despite not personally knowing about any cases of an NDA being used, Preston Carter, a Ph.D. student in Fordham's philosophy department, said that it is still important that a policy is put in place that unequivocally bans their usage. "We're preventing a problem that we know about because there has been sexual harassment at Fordham," Carter explained. He said that it is important that FGSW focus on NDAs because they have been historically known to be used as a tool to silence victims in universities to keep from tarnishing a school's reputation.
Van Dyne also agreed with this idea, saying that, by its very nature, it is near impossible to know whether any NDAs are currently in place at Fordham. "There might be one. There might be 10. There might be 100 that are currently being enforced. We simply don't know," Van Dyne stated. "We can't know if Fordham is safe. We don't say 'we know it's unsafe,' right? We can't know. But the lack of disclosure is troubling."
The issue of using NDAs to silence survivors of sexual misconduct or discrimination is not unique to universities. In September 2022, the U.S. Senate Judiciary Committee unanimously approved the SPEAK Out Act. This bill would void NDAs that keep employees from discussing instances of sexual harassment and sexual assault. It would allow victims to speak publicly without fear of legal backlash in order to stop future cases of harassment and discrimination from perpetrators. 
Similar to the SPEAK Out Act, which is specific to NDAs used in cases of harassment and discrimination, Van Dyne said that the graduate student union is not looking to ban NDAs that deal with salary or other personnel issues at the institution but would eliminate the use of non-disclosure agreements for cases of harassment and discrimination entirely. He said FGSW is seeking to have any person currently under an NDA through Fordham relating to sexual misconduct released from their agreement, and that this policy would extend to every member of Fordham University, not just graduate workers and students. 
"Our reasoning here is beyond the fact that it's just wrong to silence people about their experiences of harassment and discrimination," Van Dyne said. "Our reasoning is that, if there are people who have committed such acts, it is in everybody's health and safety interest to know that that has happened."
In a December 2022 letter sent by FGSW to Fordham University attempting to request information about the history of NDAs at Fordham and the university's policies about them, the union laid out its demands related to nondisclosure agreements.
"The Union proposed a contractual term that would bar Fordham from using NDAs in any settlement of a claim of harassment or discrimination," the letter stated. "The Union maintains, as we have stated during bargaining, that the use of NDAs in such circumstances is a matter of workplace health and safety because contractually barring a complainant from speaking about the underlying facts and circumstances of their claims of harassment or discrimination can conceal known dangers that exist in the workplace (e.g. individuals who engage in harassment or discrimination)."
Howe said that the Fordham administration does not want the FGSW to be negotiating for changes that would extend to every member of the university, even those outside the graduate student union. "They [FGSW] want the same policy to cover all employees, even those outside of the bargaining unit," Howe stated. "The university has told the union negotiators multiple times that [their] proposal should not pertain to other groups of employees who they don't represent (some of which are represented by other unions)." 
During bargaining negotiations in which Carter was present, he said that Fordham's negotiating team has said that they want to reserve the right to use NDAs in certain cases of sexual misconduct. During these sessions, Fordham administration has said that there might be cases in which survivors themselves choose to sign them, according to Carter. "They sort of had the rationale that some survivors might want to sign an NDA," Carter said. "And the other rationale that they gave was that it would somehow expedite the process of getting a harasser out of Fordham." 
However, Howe said that if a complainant does not want to talk, that is their own choice and does not have to be legally enforced. "There's no reason for a complainant to voluntarily sign an NDA," Howe said. "If they don't want to talk about their experience, that's their business, not the university's."
However, Jay Plourde, a Ph.D. graduate student studying quantitative psychology at Fordham, said there are some discrepancies with the administration's word choices. At a bargaining session in which she was present, Plourde said that Fordham's team said "that both parties may be considered complainants because the originally accused party may file their own complaint or countercomplaint against the original complainant. Theoretically, this could make both parties complainants and either or both parties subject to NDAs."
In an email sent out to the entire Fordham community by Tetlow, she stated that both the union and Fordham administration are seemingly in agreement about one thing: harassment and discrimination should not occur. "We care deeply about the opinions of our graduate students, and we agree with many of the issues they have championed, including their advocacy on behalf of sexual harassment complainants." the email said.
However, until this agreement is translated into a contract that legally eliminates the use of NDAs at Fordham along with satisfying the union's other demands, FGSW says it will continue to negotiate and potentially withhold their members' labor again in the future. 
"This story here isn't a story about an individual who was forced or coerced or cajoled into signing an NDA," Carter said. "The story is entirely about many people in the union being concerned about harassment and silencing survivors."