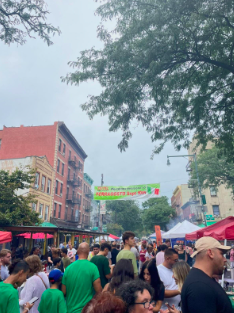 This past Sunday, the wonderful Italian celebration of Ferragosto took place in the Belmont neighborhood, featuring cuisine from local businesses, specialty items and live entertainment in celebration of the holiday. The Belmont Business Improvement District puts on the celebration, which strives to expand awareness and economic development of the community. The festival occurs each year on the Sunday after Labor Day on Arthur Avenue, between East 187 and Crescent Avenue. Over 25 years ago, businesses and representatives of the Belmont community came together to bring this Italian tradition to the community, and it has been a success ever since. Other event sponsors include Fordham University, New York Botanical Gardens and the Bronx Zoo. 
This festival is a beloved tradition in the community as alumni, current students and faculty flood the lively streets, sampling all the different tables. A group of friends and I went to the festival hoping to try some free samples and engage with the local businesses, and we ended up staying for two hours as we could not get enough. 
At the "Little Italy in the Bronx" table, we received samplings of pasta and their homemade sauce. Down the street, mozzarella cheese was being stretched across the street with a spirited Italian man encouraging bystanders to participate. Classic restaurants like Enzo's featured their bestselling dishes of vodka pasta and chicken cutlets. I could not leave the streets without getting a sweet treat, so my friend and I indulged in a cannoli from Artuso Pastry Shop. We also enjoyed the performances from Emcee Nick Vero and other local artists. 
During my freshman year at Fordham, I participated in an Arthur Avenue food tour, where I learned the history and culture behind many businesses in the Belmont community. Knowing the stories behind all these storefronts and families makes me appreciate living in such a historical community, and I have enjoyed taking it in these past two years. I encourage all Fordham students to explore the neighborhood and engage with the local community; it is an important part of the experience here.