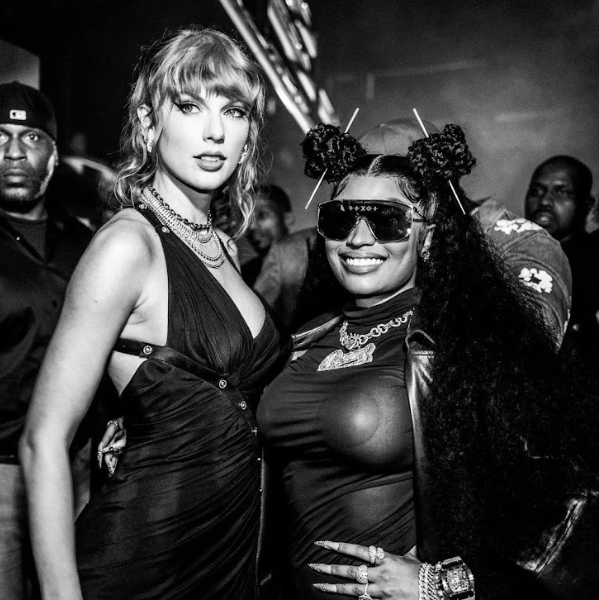 Over four hours and 20 performances, the annual Video Music Awards (VMAs) streamed its 38th award show on Tuesday, Sept. 12, officially celebrating industry success, record-breaking wins and 50 years of hip-hop.
This year's VMAs were triumphant for women, from Nicki Minaj hosting to women dominating the nominations. For the first time in VMA history, all nominees for Artist of the Year were women. Fan-favorite Taylor Swift took home the award, but Beyoncé, Doja Cat, Karol G, Shakira and Nicki Minaj were the other female nominees who contributed to this important milestone in VMA history. 
According to MTV, Swift tied the record for most wins in a night. Video of the Year, Album of the Year and Song of the Year are among her seven other wins that contributed to the star's impressive cumulative lifetime total of 23 VMAs, putting her second only to Beyoncé.
*NSYNC made a surprise reunion to reveal the winner for Best Pop Video, to which Swift, the queen of Easter eggs, said, "They're going to do something, and I need to know what it is," when accepting the award for "Anti-Hero." Two days after their reunion on Thursday, Sept. 14, the '90s boy band announced the release date of their first song since 2002, "Better Place."
Four-time VMA winner Shakira was recognized for her lifetime achievement with the Vanguard Award, making her the first South American to receive this honor. The Latin performer returned to the VMA stage for the first time since 2006, where she gave an electric performance singing and dancing to songs such as "Hips Don't Lie," "Whenever, Wherever" and "Te Felicito." The Vanguard Award winner energized the arena by crowd surfing while singing "Bzrp Music Sessions, Vol. 53."
Olivia Rodrigo recently released her sophomore album, "GUTS," just four days before the VMAs and performed two of her newest songs. Rodrigo's performance of "vampire" mirrored the music video, with an identical forest backdrop with intentional stage malfunctions. As the pyrotechnics sparked and started to fall from the ceiling, celebrities like Selena Gomez were caught noticeably confused and concerned for the "drivers license" singer. The pop rock singer finished her VMAs with a youthful and energetic performance of "get him back!" which featured a group of Rodrigo look-alikes. The up-and-coming artist was nominated for six awards and secured Best Editing for her hit "vampire." 
Many TikTok users are praising Megan Thee Stallion and Cardi B's performance of their new song "Bongos." The "WAP" singers riled up attendees with vibrant dancing and energy. Cardi B made a grand entrance to the stage as she rode down a disco ball to the beat of congo drums. 
To celebrate the five-decade anniversary of hip-hop, the stage hosted an ensemble of the genre's leading artists. The star-studded group performance featured host Minaj, Diddy, Grandmaster Flash and the Furious Five, Doug E. Fresh and the Get Fresh Crew, Lil Wayne, LL Cool J and DMC. The 10-minute mashup paid homage to the legacy of this revolutionary genre by blending old and leading hip-hop artists. 
Legendary rapper Diddy was honored with the Global Icon Award and expressed gratitude. "I grew up watching MTV like, 'Man, I wish one day I could be up there,' and I started out as a paperboy. I didn't know I was going to be here," he shared to the crowd. 
Other notable performances include Demi Lovato's return to the stage and Karol G's VMA debut. In Fordham-related news, Lana Del Rey, FCRH '08, won Best Alternative Music Video for "Candy Necklace," and the famous Fordham Road native, Ice Spice, won Best New Artist.  
From all the show-stopping live performances and headlining artists, MTV reports that the VMAs had 37% more viewers than the year before. The ceremony on Tuesday was streamed by 865,000 people, increasing from 235,000 in 2022. As the excitement surrounding award shows dwindled in recent years, it is interesting to unpack the reasons behind this year's jump in numbers.
The VMA stage is notorious for consistently producing iconic pop-culture moments. More often than not, these iconic and often controversial moments are more memorable than the awards itself. We see this through the Britney Spears and Madonna kiss in 2003, Lady Gaga's meat dress in 2010, Kanye hijacking Taylor Swift's acceptance speech in 2009 and the jaw-dropping twerking/foam finger performance by Miley Cyrus in 2013. 
In the past, these headlining performances attracted viewers to tune into these performances to stay entertained by the possibility of witnessing an iconic interaction on live television. But today, there is a lack of excitement surrounding award shows, specifically the VMAs. When the VMAs launched in 1984, MTV was at its peak, dominating cable networks until more and more programs started to stream. Despite the decline in MTV's popularity, people were still eager to watch the VMAs to get glimpses of their favorite celebrities, consume live-time news on new music and ultimately, watch customized performances. 
Before social media dominated the scene, fans turned to magazines, interviews and red carpets to stay updated with the latest celebrity news. Unlike today, where musicians share daily snippets of their lives and their fans' live-stream concerts, the award shows used to offer a rare portal into the faces of Hollywood.
Today, people are more comfortable with not tuning in live as social media accounts like MTV will keep users posted with live updates, or anything worth seeing will go viral the next day. Social media has given people who typically stay engaged a safety net to carry on with their lives while still giving the basic gist of information.
As seen with the spike in viewership at this year's ceremony, people are still engaging with award shows, only if the lineup of celebrities is worth watching. With Minaj hosting and Swift's 11 nominations, it is possible that their army of fans contributed to the viewership.
It is interesting to see how these numbers will fluctuate in the future and do further research on how much the nominations and performers influence engagement. Overall, the success and attention of the 2023 VMAs were refreshing for the award show industry.