Football superseded baseball as America's true pastime some time ago. Each and every weekend, fans flock to their couches ready to see what will happen next on both the professional and collegiate gridirons.
The rise of Colorado football head coach Deion Sanders and the budding romance between Kansas City Chiefs tight end Travis Kelce and 12-time Grammy winner Taylor Swift have both become similar sensations that are guided by the kind of individual storylines that make football's current cultural presence unique.
Sanders' time in MLB and the NFL is still fondly remembered by sports fans to this day, and the persona he's cultivated is not surprising to those familiar with his career.
"Prime Time" has utilized both his celebrity and competitive mindset as a coach. Regardless of whether or not his former team, Jackson State, or current Colorado squad wins or loses, Sanders brings a polarizing sense of swagger that sometimes becomes more entertaining than the game itself.
Even though Colorado fell to the Oregon Ducks this past Sunday in crushing fashion, Sanders still made headlines in more ways than one. Oregon head coach Dan Lanning mentioned the opposing coach in his pregame speech.
"Today, we talk with our pads. You talk with your helmet. Every moment. The Cinderella story is over man," Lanning said to his team prior to a 42-6 win. "They're fighting for clicks, we're fighting for wins. There's a difference. This game isn't gonna be played in Hollywood, it's gonna be played on the grass."
The fact that a coach could evoke this kind of public attention from both his peers and the public speaks to a larger media phenomenon that goes beyond sports and may partially explain why Kelce and Swift's romance has become the talk of the NFL.
A quick scroll through social media reveals thousands of posts reacting to Swift's visit to Kansas City, Mo., this past Sunday. The musical sensation was in attendance for Kelce's game against the Chicago Bears, and was seen interacting with the two-time champion's mother.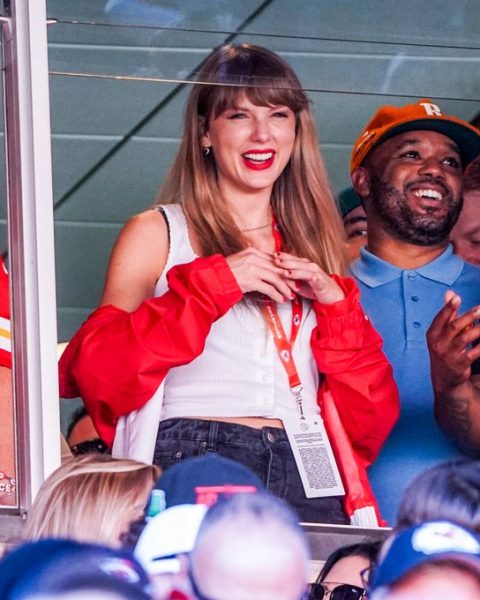 Unlike sports such as baseball or hockey, football has done a tremendous job of maintaining television viewers. The NBA has done a commendable job of growing its viewership over the years, but football, both collegiate and professional, has the advantage of being viewed as an integral part of the "American weekend."
This, combined with the power of social media, has allowed the sport to survive multiple controversies while building star personalities that captivate audiences throughout the country.
Swift's fans may not care about the Chiefs' season, but are intrigued by her connection to Kelce. Football fans may not enjoy Swift's work, but her celebrity makes her presence within the NFL landscape quite hard to ignore.
One may say that Sanders' recent boom in relevance is entirely different from Kelce and Swift's because he's going against the status quo of collegiate athletics. But, the reason he's been able to "upset the apple cart" has been because of his personal brand and willingness to embrace notoriety.
People are hooked on Sanders for the same reason they are fascinated by Kelce, Swift or even standard social media influencers. The collective cultural climate has placed individual storylines above ensemble efforts.
Football's unique media presence and latest blend of characters has allowed for nuanced parasocial relationships that go beyond the first down marker in terms of cultural significance.