It's often said that the sequel is never as good as the original. Fordham Men's Basketball has a chance to prove otherwise.
Last year's 25-8 season saw Fordham post a 12-6 conference record, and make an appearance in the Atlantic 10 Semifinals where they ultimately fell to the Dayton Flyers. The 2023-24 campaign is set to tip off with a Nov. 6 home game against Wagner, and second-year Rams head coach Keith Urgo will boast a blend of both fresh and familiar faces looking to show that they can compete in an extremely deep conference.
"Obviously everyone talks about Championships. That's the ultimate goal, making the NCAA Tournament," Urgo said at the annual A-10 Media Day event. "Hearing your name called on selection Sunday, there is nothing quite like that. I feel like we have enough talent and depth where that could be a possibility, but you just never know. There's so many different factors. We've got to continue to get better. We've got to mature, and obviously we have to stay healthy."
The boys from the Bronx had a clear calling card during their breakout season-sturdy defense. They surrendered the fourth fewest points per game, and forced the third most opponent turnovers per contest.
From a personnel perspective, Fordham's defensive grit figures to remain a vital part of the equation. The departure of Rostyslav Novitskyi will place more responsibility on the shoulders of senior Abdou Tsimbila.
"He knows what his strengths are," Urgo said of Tsimbila. "He works on his weaknesses, so he's going to be more of an offensive threat this year. I couldn't be more thrilled with his development."
The Cameroon native, along with sophomores Romad Dean, Angel Montas and Elijah Gray, will be charged with protecting the paint. The latter three forwards are interesting pieces to the Fordham puzzle. Their size and athleticism complement the physical brand of ball Urgo has preached about, but it is not known if they will be fixtures in the rotation.
On the perimeter, Kyle Rose cemented his status as one of the conference's best defenders last season. The Maryland native led the maroon in steals thanks in large part to his tenacity at the point of attack, and recently earned Atlantic 10 Preseason All-Defensive Team honors along with Tsimbila as a result.
"I want to continue to get better on defense and just show the rest of my team that it's not only about putting the ball in the basket," said Rose. "You can affect the game in many other ways."
Graduate transfer Ogheneyole Akuwovo, sophomore transfer Joshua Rivera and senior transfer Japhet Medor will each be asked to embrace the mentality that landed Rose and the Rams the A-10's second best overall record.
With the culture that Urgo has attempted to mold, and with the returning defenders like Rose, it's not a stretch to say that Fordham will be able to replicate what they were able to do defensively, but scoring on the other end could be their biggest question mark.
The Rams will be uniquely tasked with finding an offensive identity. Darius Quisenberry and Khalid Moore led the team in scoring last season. Either player could have served as a primary option on any given occasion, and their scoring ability often opened up avenues for teammates.
Their departure leaves Fordham without a true number one option, but there are still numerous players who could spark the offense. Chief among them is senior Antrell Chartlon. He led the team in assists per game, and averaged the fourth most points of any Ram. Much like Rose, Charlton is a fiery defender on the perimeter who can turn good defense into better offense. Without Quisenberry and Moore, Fordham will need Charlton to continue to serve as both a facilitator and a scorer, and hope that others like Rose, Tsimbila, Rivera, Medor and junior Zach Riley follow suit.
As a freshman at Lafayette, Rivera posted 10.6 points. Medor Ranked fifth in the C-USA in assists at the University of Texas at San Antonio, and Riley offered moments of offensive agility for Fordham last year that stimulated offensive production.
Sophomore guard Will Richardson is another individual whose offensive growth will be paramount. During his freshman campaign, Richardson averaged 6.6 points across 33 games while struggling to take care of the ball and be a consistently good defender. Richardson's first year at the collegiate level could best be described as streaky, but there is no reason to believe he won't be able to improve certain areas of his game as he becomes more at home in the Bronx.
Richardson's development could serve as a blueprint for freshman Jahmere Tripp. The Brooklyn native is a hybrid whose size and strength allow play either guard or forward. He played in the Overtime Elite circuit with Our Saviour Lutheran as a senior, and averaged 11.7 points. If Tripp could provide similar spurts of electricity this year, it will be akin to what Richardson was able to do a year ago from an offensive perspective.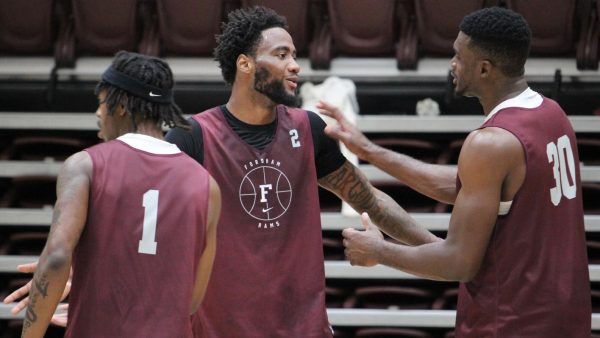 The Rams were ranked seventh in the A-10 preseason poll. They received one vote to finish in first place, but the majority of voters selected either Dayton or VCU. The DaRon Holmes III-led Flyers reigned in 20 first place votes while the defending A-10-Champion Rams secured one first place vote. Third place-ranked St. Bonaventure was the only other school to receive a first place vote as intriguing programs such as Duquesne, St. Josephs, St. Louis and Loyola Chicago rounded out the top eight teams.
The bottom of the A-10 preseason poll featured schools such as La Salle, Massachusetts and Rhode Island. When in-conference play kicks off in January, Fordham will have to handle these kinds of opponents, and not allow a hectic non-conference schedule to distract them from the job at hand. Such a task will not be easy considering some of the A-10's less touted units have either plugged their deficiencies through the transfer portal or elected to try and develop returning players who've shown promise.
Just before the Rams begin their A-10 slate against George Washington on Jan. 3, they'll face Rick Pitino's Johnnies at Madison Square Garden, and then return to Rose Hill for two final non-conference contests against Central Connecticut State and Columbia.
Success at the collegiate level often depends on culture, continuity and player development. The Fordham Rams thrived a year ago due to a powerful culture shift and noteworthy roster continuity.
This season will require that same culture to influence the development of both new and returning players as Fordham aims to continue their rise towards the top of the heap.