Fordham University has an expansive study abroad program, known for its feature semester-long offerings in London at the university's Clerkenwell campus, and Granada, at the University of Granada, where students are placed into local homestays. According to the study abroad office, an average of 47% of students study abroad at one of the "over 100 study abroad programs in more than 50 countries" that the university offers.
However, the university currently has no internal (i.e. Fordham-run) program for students looking to study abroad outside of Western Europe following the 2020 suspension of the Ubuntu program, a partnership between Fordham and the University of Pretoria which allowed Fordham students to study in South Africa and University of Pretoria students to study in New York.
All study abroad programs were suspended during the 2020-21 academic year due to the COVID-19 pandemic, but London and Granada were reinstated the following year. Despite expressed interest from students and faculty, the university's partnership with the University of Pretoria has not restarted.
The University of Pretoria-Fordham partnership was founded in 2007 by the late Archbishop Emeritus Desmond Tutu. According to professor Booi Themeli, who directed the program from its inception, Ubuntu sought to "empower the next generation of leaders" in South Africa and New York. It was previously temporarily suspended in 2017 following violent protests in the region.
Many students and alumni are calling on Fordham to reinstate this program as well as streamlining more programs outside of Western Europe.
Participating students in South Africa participated in community-engaged learning, which involved weekly volunteering in rural and remote areas outside of Pretoria. Students learned about the effects of apartheid and decolonization and were immersed in socio-political history of South Africa.
The Ubuntu program was of particular interest to those looking to explore South Africa's rich culture and layered past. Additionally, unlike the other current opportunities to study abroad in Africa, Ubuntu was completely Fordham-run. Fordham students had classes, mentors, trips and a community completely built for them, a different experience than participating through an external organization or sister institution.
Ian Smith, communications officer at the United Nations' International Fund for Agricultural Development (IFAD) and FCLC '22, studied abroad at the University of Pretoria through the Ubuntu program.
"The Ubuntu program changed the course of my life. It's how I got my job at the UN," said Smith. "I ran a campaign this time last year to get [the program] reinstated and the study abroad office has still never provided the reason why the program closed and when it might reopen."
"Ubuntu in South Africa was a long-standing, well-respected and adored program for over 10 years," said Smith. "I had 13 people in my cohort — some years there were as many as 25 students." Additionally, Smith said that the Ubuntu program had "an element of exchange" as many South African students had the opportunity to "come to the U.S. for the first time."
Smith said that the program emphasized anti-racism, decolonization and social justice — all essential tenets of Jesuit religiosity — as the foundational ideas that made up Ubuntu's curriculum. "If Fordham is truly committed to anti-racism, as they professed in 2020, the administration would not have closed the university's only [Fordham-run] African study abroad program that same year."
Francesca Rizzo, FCRH '24, a humanitarian studies and theology double major, chose to study abroad in Tunisia for the fall 2023 semester. Tunisia is an Arab country in North Africa known as the origin nation of the Arab Spring, a political revolution which sought to bring democracy (amongst other goals) to the African continent.
"I [am] looking to get experience working on postcolonial development, human rights and emergency aid," said Rizzo. "It didn't really make sense to me to study in [Europe] as they aren't the ones typically [sic] facing the crises I have dedicated my study to. In fact, as the nations who are responsible for the challenges and fallouts of colonialism, it seemed backwards to me."
Rizzo said that her experience in applying for study abroad was much more complicated than her friends who studied in Fordham in London or Granada. "I was provided with no extra resources [from the study abroad office], nor advice from past students or faculty," she said. "In fact, I waited for months with little communication [from the study abroad office] to get approved."
However, she said she encourages students to pursue Africa study regardless of potential roadblocks. "If more people sign up for African programs, perhaps Fordham will promote them and help students more. I would love to see that happen," said Rizzo.
Dr. Joseph Rienti, director of the International and Study Abroad Programs, stated that the university currently offers 20 study abroad programs in 11 countries in Africa. All of these programs require an application through a partner institution or external organization. For example, the Cape Town program offered by Fordham's sister Jesuit school Marquette University has attracted a number of Fordham students.
Here is the split of study abroad programs amongst six continents: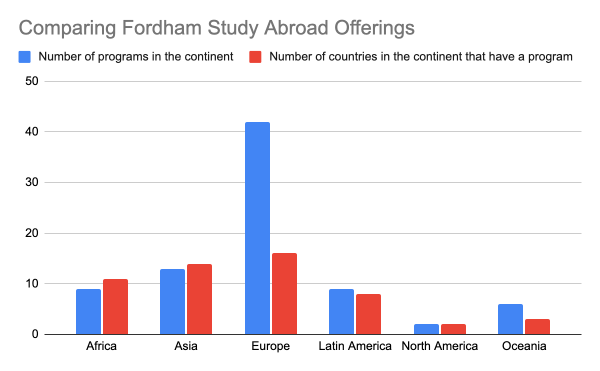 Although in Europe, the Granada program acknowledges Spain's colonial history in Morocco, an experience which is both culturally immersive and politically relevant for participating students.
"All of our Granada study abroad program students do an immersive cultural exchange visit to Morocco," said Rienti. "They engage with local university students, have a home-stay visit and learn about the history, culture and contemporary issues impacting North Africa." Given Spain's colonial history in Morocco, this experience is both culturally immersive and politically relevant to the Granada program.
"The International and Study Abroad Programs Office is committed to supporting and promoting global diversity as well as helping our undergraduate students gain an understanding of some of the complexities that stem from our increasingly interconnected and interdependent world," said Rienti.
Hanif Amanullah, FCRH '24, studied abroad in Kenya. He participated with the School of Field Studies (SFS), an external organization which focuses on study abroad experiences "through field-based learning and research."
He stated that "Ms. Robin Joseph and Dr. Rienti were very accommodating when I began applying to SFS," even though the "program didn't exist on the Fordham study abroad roster at the time."
Amanullah had to go through an additional application process to have it approved and then had to apply to the program separately.
"I'd always wanted to study abroad in a non-Western country, and while searching for environmental studies opportunities I came across the School for Field Studies and their Kenya center," said Amanullah. "Studying in Kenya seemed to offer a new lens, new perspectives on wildlife and landscape conservation."
During his program, Amanullah conducted research on how wild animals — such an elephants — adapted to changing environments. His cohort did "lots of camping" around Kenya and Tanzania to learn more about the local wildlife and nearby reserves.
"One time my PB&J sandwich was stolen by a vervet monkey," said Amanullah. "Thinking back on it, several food items of mine were stolen and subsequently consumed by wild primates."
Studying abroad outside of Europe has proved to be a culturally enriching, once-in-a-lifetime experience for Amanullah, Rizzo and Smith, who encourage students to pursue these programs.
Such opportunities align with the university's "cura personalis" ethos and "[draw] on a long-standing tradition in Jesuit education," according to Rienti.
Although student interest in African study has dwindled, there is still a concerted interest amongst students and faculty to bring back to Ubuntu program. The study abroad office did not comment on when or if the Ubuntu program would return, nor the establishment of any future Fordham-run study abroad programs outside of Europe.
This article was revised on Nov. 29, 2023 for clarity purposes.