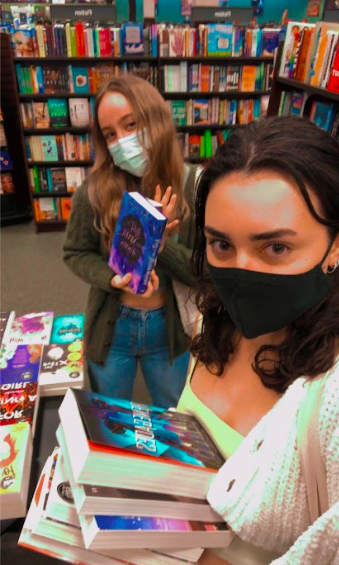 On April 14, 2021, I began reading "Renegades" by Marissa Meyer. My dear friend Grace (who is mentioned in too many of my articles) pointed it out during one of our semi-often "I'm losing my mind" Barnes & Noble runs, saying she saw it on TikTok described as a mix between "Miraculous Ladybug" and Marvel. It immediately joined the already large stack of books I was carrying, no questions asked.
On April 25, 2021, I was towards the end of the third and final book, "Supernova." I was crying so much I needed a mental break, so, like every teenage girl at the time, I opened TikTok. There, an edit of Bucky Barnes circa "The Falcon and the Winter Soldier" set to the bridge of Taylor Swift's "The Archer" appeared on my For You page. It was the first time I ever really listened to the lyrics of "The Archer," and I ended up reading the last 100 or so pages of "Supernova" with only that song playing in the background.
Now, it seems silly that a random book trilogy in my least-favorite genre and a song I didn't like for two years, neither of which is their most popular work, would impact me so deeply, but they did. 
"Renegades" follows Nova Artino, a villain determined to get revenge on the Renegades (the reigning government), blaming them for the murder of her parents and sister almost a decade prior. She uses her anonymity to go undercover in the Renegades; however, once inside, she builds genuine, loving relationships with the very people she vowed to destroy. Throughout the trilogy, Nova has to figure out what is more important: her loyalties or her values. 
I find myself in Nova in such a deep way that I haven't found with any other character. She's passionate to a fault but keeps the important feelings inside. She falls in love easily but is too scared to do anything about it. She wants to be a good person but never seems to make the right choice. Also, this girl can hold a grudge, and I'm known for never really getting over anything. 
I can see the scenes so vividly — the colors, the layout, the emotions, even the background noises and the camera angles. Oftentimes, I can set these scenes to certain songs (check out my playlist "renegades" on Spotify), which is where we reach Swift's masterpiece. When I listen to "The Archer," I can match a scene to every single lyric. It is the soundtrack of the trilogy, showcasing Nova's development with every word and every beat. 
To me, "The Archer" signifies the good and bad that lives within us. We make mistakes, but we try to fix them. We hurt people, but people also hurt us. We carry the regret and guilt of our past, but there are people who will love us despite all that. People will leave, but the most important ones are those who stay.
As was for many others, the pandemic was one of the lowest points in my 21 years of life. I sat alone in my hybrid high school classes; I barely passed my community college courses; I only had six volleyball games and played all of them with a minor bone bruise in my wrist; I failed to keep up friendships; I worked the 5:30 a.m. shift at the swim center I hated. Before COVID-19, anytime I felt my present was out of control, I found comfort in looking towards the future, but that no longer helped as the constant isolation continued. I felt stuck, watching rather than living as the days repeated over and over. It got to the point where I dreaded falling asleep because I knew I would have to wake up the next day and do it all again.
But as cheesy as it sounds, listening to "The Archer" helped me fall asleep, and reading "Renegades" helped me get out of bed in the morning. It was like when the sun rises after a long winter night — a new light had found me. I found the courage to go about my days, and I gained hope for what lay ahead of me. 
No form of media has impacted my life the way "Renegades" and "The Archer" did. Even now, two-and-a-half years later, they hold the same meaning to me. In 2022, "The Archer" was my top song on Spotify Wrapped — I listened to it 496 times. When I reread "Renegades" this past summer, I felt all the same emotions as I did when I read it for the first and second time, and I know it'll stay the same when I read it for the fourth time (even if I buy a third copy of the series to annotate fresh).
"I've been the archer, I've been the prey" is permanently tattooed on my arm. Every time I look at it, it not only reminds me of "The Archer," but also of Nova and "Renegades." Most importantly, though, it reminds me that I am worthy of love despite my mistakes because it's what I do in the present that makes me a good person.