Arlo Parks Synthesizes Poetry and Music in her Latest Album "Collapsed in Sunbeams"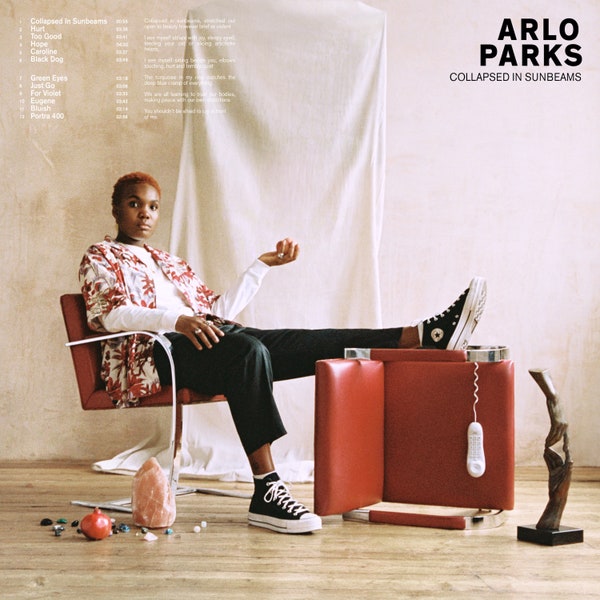 Above all else, Arlo Parks is a poet. The 20-year-old's striking use of words has made waves in the UK indie scene over the last two years and she's now taking the world by storm with the release of her first full-length album, "Collapsed in Sunbeams."
Parks started making music just a couple of years ago, but her roots in poetry go back to her childhood in West London. It wasn't until 2018 that music found its way into Parks' creative process when she started speaking poetry over beats. The poet and singer-songwriter began to make music in her bedroom as a teenager. She released her first EP, "Super Sad Generation," in 2018, which was a collection of vivid, confessional songs written from the perspective of Gen Z.
Parks continues to be the voice of Gen Z on "Collapsed in Sunbeams," which, in her own words, is "a series of vignettes and intimate portraits surrounding my adolescence and the people that shaped it." The album is brimming with real human experience. It has a strong focus on mental health and the joy, heartbreak, pain and depression Parks and her friends have faced as they have grown through adolescence.
The project begins in true Arlo Parks fashion with a spoken word poem over a gentle string instrumental. The poem, "Collapsed in Sunbeams," immediately sets the tone for a refreshingly intimate album that glows with vivid color and deep textures. She beautifully asserts, "Collapsed in sunbeams, stretched out open to beauty however brief or violent."
Her affinity for poetry is not lost through the rest of the album, whether she is actually using spoken-word, such as on the bridge of "Hurt," or if it is simply in her familiar lyrical storytelling. Many of the album's tracks feature a protagonist that is easy to connect with, especially for Gen Z listeners. For instance, on "Hurt," Parks tells the story of Charlie, a character who experiences depression, a prevalent struggle amongst Gen Z. The message of the song, like many on the album, is hopeful. Parks repeats "it won't hurt so much forever" in the track's chorus, reassuring listeners and Charlie that "pain will either change or end." 
Parks' remarkable talent at poetic storytelling is further showcased on "Caroline," where she crafts an entire song around her observation of a couple she saw arguing on London's Oxford St. when she was seven or eight years old. She only witnessed a small glimpse of this relationship without any context over a decade ago, yet is able to make listeners feel as though they are hearing the couple argue about how their fiery passion dissolved in an instant and turned into heartbreak.
Continuing the theme of evocative imagery, Parks explores her bisexuality on "Green Eyes." She creates a dichotomy between the warm, dreamy instrumental and the painful verses. The sound is emblematic of her journey of self-acceptance and self-discovery as she navigated her sexual identity and faced pushback from those around her. On the funky, Frank Ocean-inspired track, she recalls how the object of her affection "could not hold my hand in public / felt their eyes judging our love, and baying for blood."
The ultimate message of "Collapsed in Sunbeams" is duality. For Parks, hurt and hope are forever entangled. She has experienced the pain of love, especially as a Black, queer woman, yet she still maintains a mindset of fierce hope and empowerment. Through her music, Parks is able to communicate this message stronger than through just poetry.  She balances the poignant melancholy of her poetic words with the soulful '90s R&B flavor of the project's lo-fi instrumentals.
Arlo Parks strikes gold on her debut album, with her optimistic message offering a much-needed feeling of intimacy in a time when isolation and uncertainty are more prevalent than ever. "Collapsed in Sunbeams" is like a warm breeze in the coldest depths of winter- unexpected, yet something to be eternally grateful for.