USG's Keating Steps Showcases Fordham's Performance Groups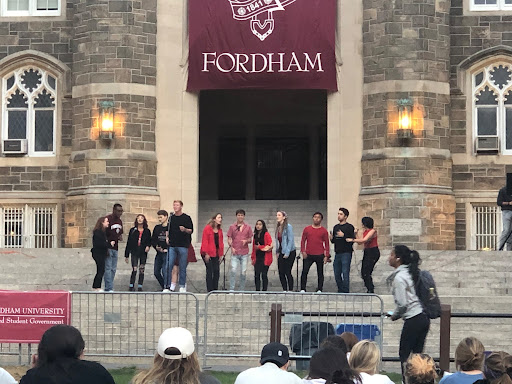 On Wednesday, Sept. 29, the United Student Government (USG) hosted its annual "Keating Steps" event to showcase Fordham's various performance based clubs. After last year's Keating Steps was impacted by both rain and the pandemic, this year's felt a lot more like the traditional event. Over 200 students attended, gathering on Eddie's with chairs and blankets to watch the showcase. 
Expressions Dance Alliance, a contemporary dance group, opened the show. They performed three numbers. The first two dances had more of a jazz and ballet influence, while the final dance was more experimental. The dances were all very well choreographed and cohesive — a great way to kick off the showcase. 
The second group to perform was Fordham Flava, a hip hop dance group. They performed a medley of dances to pop songs, which made for an exciting performance that had the whole crowd cheering. Their first dance, which was performed to "Hot in Here" by Nelly, was especially fun as it included a lot of unique and upbeat choreography. 
The b-sides, Fordham's oldest co-ed a cappella group, performed next. Their rendition of "Chasing Pavements" by Adele and Eg White was incredibly beautiful. The Hot Notes, another co-ed a cappella group, took the stage next. As a jazz inspired group, they performed three popular songs, but added a jazz beat, making for a fun and funky set. 
Sláinte, Fordham's Irish dance company, performed fifth. They did several dances, including one to "Dancing Queen" by ABBA, which was a fun twist on traditional Irish dance. The Satin Dolls, Fordham's all female a cappella group, performed next. Their set was beautiful and featured solos by Blake Mongno, FCRH '22, and Olivia Eguia, FCRH '22. Fordham's all male a cappella group, the Fordham Ramblers also performed incredibly well at the showcase with solos by Jamie Barker, FCRH '23, and Matthew Tobin, GSB '22. Their rendition of "Rabid Animal" by Lake Street Drive was especially striking. Both of these groups are now turning their attention to preparing for their performance at Radio City Music Hall on Nov. 5 and Nov. 6. 
The Fordham Dance Co-op, an all-inclusive dance group, performed one hip-hop inspired dance. It was an upbeat, fun performance to "Lose Control" by Missy Elliott. Fordham's ballet club, The Jetés, performed two dances. The first was a contemporary number featuring two female dancers and the second was a solo male dancer, performing a dance from The Nutcracker. 
The final group to perform was the Fordham Dance Team, a perfect group to wrap up the show. They made great use of the "stage" coming down and spreading out on Keating Steps, celebrating Fordham University.  
Overall, it was a great show. All of the groups performed incredibly well and it is clear we are in for a great year of shows and performances. What's even more impressive is that for many of these groups, it was their first time performing for a live audience in over a year. Patrick Breen, FCRH '22, the co-president of Sláinte, said, "I don't think we knew just how much we missed performing in front of a live audience until yesterday, but afterwards we were all grinning ear to ear. It's been a full 18 months since we got to hear the cheers of a crowd."