Father, Son and Definitely Not House of Gucci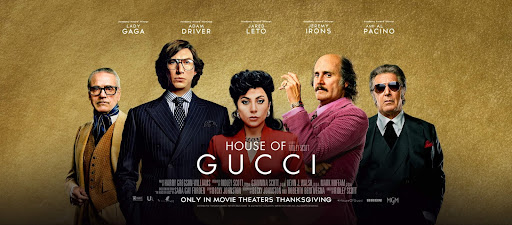 "House of Gucci," directed by Ridley Scott, has been one of the most highly anticipated films of the season. The all-star cast, the never-told-before story, the fashion: Everything about this film was supposed to be as perfect as Gucci loafers. However, to my surprise, this film was a major disappointment. 
The film tells the story of Patrizia Reggiani, the daughter of a humble Italian couple, who meets Maurizio Gucci, the grandson of Gucci's creator, Guccio Gucci. The two meet at a party, Maurizio makes Patrizia a drink and they get to dancing. At first their relationship is sweet, a Hallmark movie romance with thick Italian accents and heavy eyeliner. Maurizio's father does not approve of Patrizia, which leads the couple to find comfort in Maurizio's uncle, Aldo Gucci. Aldo treats them well, giving Patrizia anything she wants, and eventually gives them an office in New York. However, both Patrizia and Maurizio find out Aldo and his son, Paolo, have the real power in the Gucci company, which is a catalyst for much of the family drama throughout the film. The couple plots against Aldo to get him arrested for money laundering and take over Gucci. Throughout this process, Patrizia is gunning to become a true force within Gucci. But because she is an outsider, this longing pits the rest of the family against each other, and eventually leads to the demise of her marriage and the murder of her husband. The film ends in court, where Patrizia is sentenced to 29 years in prison for premeditaed murder. 
Before I explain the many parts of this film I did not like, I cannot ignore the parts that had redeeming qualities. The cast of this film is spectacular. Adam Driver, Lady Gaga, Al Pacino, Jared Leto and Salma Hayek, all making appearances within three minutes of each other… count me in! Cleary, with a cast like this the acting was amazing. The relationship between Patrizia and Maurizio was full of natural lust, and I could sense the chemistry between the two on screen. Honestly, I think that if this film was more focused on their relationship, it would have been a lot better. It was hard to decipher what the director wanted us to consider during this film. Were we supposed to be analysing Maurizio and Patrizia's relationship? Or were we supposed to be paying attention to the dynamics of the Gucci household? It wasn't clear until the very end that this film was trying to portray both, which as a viewer was completely unclear and left me feeling confused and scatterbrained. 
However, I could not think of a better cast than Gaga for Patrizia. Gaga captured her humble beginnings even when she was living lavishly in a NYC penthouse. The almost trashiness of Patrizia's presence is bottled perfectly in the clothing she wears, the conversation she starts and the less prestigious tone of her accent, all traits that make Patrizia an interesting character, definitely the most interesting in the film. 
The main critique I have of this film was the length. And I know, critiquing the length of a film is petty, but in the case of "House of Gucci," it's everything. I saw the film at 5:15 p.m. and did not get out until 8 p.m. I kept thinking that when music started to fade the credits would roll, but it never happened. The depiction of Patrizia and Maurizio's relationship could have been cut down to 20 minutes, which would have left so much more room for the family drama and the plotting of murder, which came out of nowhere and was not introduced well at all. So much of this film felt unnecessary. 
Furthermore, this film had the potential to be incredibly visually appealing and stimulating. Gucci is a household name in fashion with color, pattern and history, yet none of this was reflected in the film. None of the lavish visuals and creative costumes that I was expecting from a film about a fashion house were present, which was disheartening. Genuinely, I recommend not seeing this film. Save yourself 3 hours and $15. If you want to see the glamour of the Gucci lifestyle, just go to the store.