Protesters Rally Against Fordham's New Vaccine Mandate
On Oct. 14, approximately 20-30 Fordham students, faculty, staff and parents gathered on Southern Blvd. outside the main Fordham gate to protest the university's bivalent booster mandate. 
This protest was not the first time Fordham community members expressed opposition to the bivalent booster mandate. Since the university's announcement of the mandate on Sept. 29, there has been a lot of backlash from members of the Fordham community and parents and family members of students. According to a press release by Fordham Together (a group of current and prospective parents, students, staff, faculty, etc. who oppose the new mandate), 1,158 university community members signed a letter addressed to President Tania Tetlow in protest of the bivalent booster mandate. 
Protesters gathered with signs expressing their opposition toprotesting the requirement including "give us a choice not a mandate," "please hear us President Tetlow" and "I don't want myocarditis."
The organizer of the protest, Virginia Ungaro, an employee of Fordham's enrollment services for 17 years said that she does not support the vaccine mandate because it is unfair to members of the university, especially students.
"We really feel for the students because they're pulling this on the students, just a month into their new semester after their parents dropped them off, paid all the fees and are about halfway into this deal which is about 30 grand," said Ungaro 
Ungaro cited concern with the lack of transparency from the university regarding the consequences of refusing to get the vaccination. 
"We are frustrated by the language because they're not being clear or concise about the repercussions for students and faculty and staff. They are not telling us if you don't get this, you will be disenrolled. I think they're just purposefully pulling a bait and switch on the students, and parents should be outraged. This is not cheap, it's an education."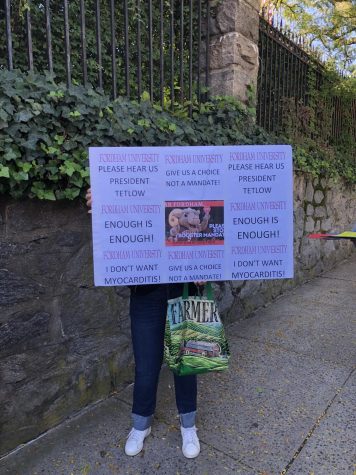 Many of the protesters were parents and family members of Fordham students. One Fordham parent (who only provided his first name), David, said he opposed the new mandate because COVID-19 is largely low risk for young, healthy individuals. "Really we're just here asking for a choice. That our kids have the choice to make that decision on their own," said David. 
He also expressed dissatisfaction with the university's timing of the mandate, "we think it's a bit of coercion to mandate this after you've already paid your tuition … to then have an ultimatum, like you have to do this or else you're out," he added. 
Several students also attended. Alvaro Gich, GSB '23, said, "I understand if people want to take it [the bivalent booster], but I don't understand Fordham's decision to make it a mandate." Kyle Sofhauser, GSB '23, added, "I feel like now we're at a much different place than we were back then, and a lot of leaders and health directors have acknowledged that and a lot of other universities have too, since Fordham is one of the only universities that's mandating everyone to get the shots." According to No College Mandates, an organization that opposes college vaccine requirements, only about 20 colleges are requiring the bivalent booster. 
Sofhauser also said, "I just feel like there's a lot of students that don't agree with the mandate, but they either feel like they can't do anything if they speak up or they will get in trouble if they speak up." He added, "I haven't really heard a lot of people talking about it because I think a lot of people think that nobody cares, but from what I've heard and the people I've talked to that's not true, there's not a lot of people that are happy or at the very least agree with the mandate." 
Other protestors interviewed by the Ram presented similar opinions to those above. Many protesters were upset about a booster mandate because they wanted the choice to get the vaccine. Others present at the protest repeated sentiments of confusion about why a bivalent booster mandate was in place when the Center for Disease Prevention and Control (CDC) only recommended the vaccine. According to the CDC website they recommend, "that people ages five years and older receive one updated (bivalent) booster if it has been at least two months since their last COVID-19 vaccine dose," to be considered "up-to-date" on vaccination. 
This concern was addressed on Oct. 6 in the United Student Government's (USG) weekly meeting. Assistant Vice President and Dean of Student Services, Keith Eldredge fielded questions from students about the mandate. Eldredge stated that the CDC's role is to give guidelines, not to mandate. 
In the USG meeting, Eldredge said when the university made the decision to mandate the original booster vaccine in spring of 2022, they made a commitment to mandating vaccines to stay up to date with the CDC recommended. Upon returning from summer break, Fordham's website informed the community about fall semester 2022's COVID-19 policy, stating that the university "require[s] every member of our faculty, staff, and students to be fully up-to-date on COVID-19 vaccinations in order to enter campus." They also stated that "it may be necessary to require a second booster shot for eligible individuals prior to the fall2022 semester." 
Political science  professor Nicholas Tampio, Ph.D, also attended the protest. In addition, Tampio and other Fordham faculty members organized a petition to President Tetlow, asking to revoke the mandate. 
The petition stated: "We believe that the final decision whether to receive the bivalent booster should be left to the judgment of each individual, in consultation with that individual's physician and conscience." 
The petition also took issue with using the CDC's guidelines as a mandate, the lack of other higher education institutions requiring the booster and the bivalent booster's inability to entirely stop transmission. 
"I think a lot of us here got the initial series, we got the first booster, we were trying to be good sports and protect our livelihood, but the more and more evidence is that these vaccines won't stop transmission, maybe on the edges," said Tampio. "At a certain point we just have to realize that if they don't stop transmission then the only justification for getting it is that it's good for you. We decided it was good for you." 
Tampio said that he also disagreed with the original vaccination requirement. 
 As of Oct. 25, 113 faculty members have signed the petition. 
This is an updating story.