Fordham Bans E-Scooters and E-Bikes
In an email on Dec. 8 to the Fordham community, Public Safety announced that as of Jan. 3, all battery-powered e-scooters, e-bikes and e-skateboards will be banned from use or storage on university property. 
The email cited a recent surge in fires in New York City linked to lithium-ion batteries. Lithium-ion batteries are rechargeable batteries found in e-bikes and scooters. According to the email, in 2022 "nearly 140 people have been hurt and six people have been killed by lithium-ion batteries," with the New York Fire Department (FDNY) opening over 200 investigations into lithium-ion battery fires since Jan. 1. 
In August, five people were injured in a Bronx apartment building after an e-scooter battery sparked the fire. The FDNY also found numerous lithium-ion batteries at the scene of a Hell's Kitchen apartment fire in June.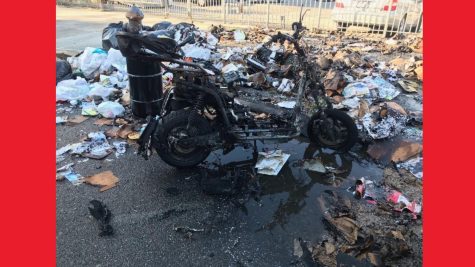 The email also noted that lithium-ion battery fires cannot be extinguished by fire extinguishers and produce toxic gasses. According to the FDNY, if you observe a lithium-ion battery fire, you should leave the area, close the door and call 911. The FDNY also recommends following the manufacturer's instructions for charging and storage, using the manufacturer's cord and power adapter and plugging devices directly into the wall electrical outlet for charging. They also say to never leave the battery charging overnight or unattended and to keep it away from furniture while charging. It is illegal to put lithium-ion batteries in trash or recycling bins, they must be disposed of in NYC Battery Recycling Centers. 
In a statement to the Ram, Robert Fitzer, director of Public Safety, said: "Anyone who owns these devices should educate themselves about their potential dangers. We chose to put this message out now to give the campus community ample opportunity to make other provisions for their e-scooters/bikes. We will also be relocating the on-campus scooter/bike racks to campus entrances. With this policy, we are prioritizing the safety of the campus community, and we expect members of the community to cooperate fully in keeping their classmates and colleagues safe."
Over the summer the New York City Public Housing Authority considered a new rule that would ban tenants from storing lithium-ion battery operated vehicles inside its apartments, however the rule has yet to be implemented. 
You can find more information about the dangers, precautions and codes related to lithium-ion batteries in this FDNY document.