Get a Snapshot of New York City in the Upper West Side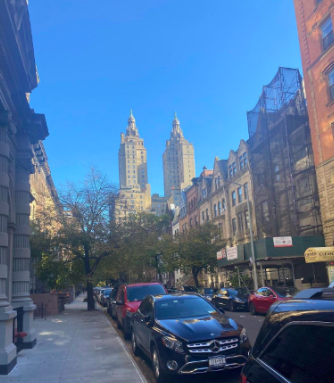 Nestled west of Central Park between Riverside Drive and Central Park West lies Manhattan's Upper West Side. This charming, family-oriented neighborhood is historic and academic, becoming increasingly more trendy and home to some of the city's most classic landmarks. 
Originally a shipping and transportation neighborhood, due to its proximity to the Hudson River, the neighborhood went from becoming mostly a squatter's settlement to an affluent area in a matter of centuries, owing credit to the development of the subway system in the early 20th century and the growing academic prestige of Columbia University, which sits nearby in Morningside Heights. 
Fordham's Lincoln Center campus, which spans from 60th to 61st street between Columbus and Amsterdam Avenues, sits at the southern tip of the neighborhood, which runs from 59th to 110th St. Conveniently, students can reach the neighborhood through the Ram Van or via the B or D trains. 
The Upper West Side is diverse and home to a variety of people, but is particularly notable for its Jewish population and cuisine. Zabar's, a jewish grocery store, sits on 80th and Broadway and is home to smoked fish, bagels, babka and more to keep you coming back. Another store down the street, Barney Greengrass ("The Sturgeon King"), of 86th and Amsterdam, is loaded with high-end fish made to cater, and has been in service for over 100 years. 
Jewish delicacies aside, the neighborhood has a variety of food to offer. Freddie and Pepper's, as well as Francesco's Pizza have both earned 8.1 ratings on Barstool founder Dave Portnoy's review app, One Bite. 
A prospective itinerary for first-timers to the Upper West Side is outlined below. Stunning exhibits in the morning, large portions of southern food towards the afternoon, followed by a walk to work off the calories before filling up again with excellent chicken and rice selection and a wide selection of gelato to cleanse your pallet is a great way to spend your time in the area. 
A day on the Upper West Side  / Morning: American Museum of Natural History / Lunch: Jacob's Pickles / Afternoon: Riverside Park / Dinner: Flor De Mayo / Dessert: Screme Gelato Bar
Outside of just filling your stomach, the Upper West Side can satisfy anyone's craving for knowledge of art or history through the New-York Historical Society, which is currently showcasing an exhibit of paintings of New York City up until July and an in-depth presentation on the history of the Jewish deli until April. 
Over on Broadway, the historic Beacon Theatre is a staple for comics and musicians alike. Jerry Seinfeld, who lived on West 81st street on our televisions for nine seasons of "Seinfeld" in the '80s and '90s, now calls the neighborhood home. He performs here next month. 
Of course, Lincoln Center is the mecca for arts and entertainment events in the city. While it definitely is a walk from what many would consider the "heart" of the neighborhood, the Upper West Side would be a much different, and artistically less-informed place without it. 
What makes the Upper West Side unique is not the restaurants or the proximity to Central Park. It's not even the stacked marquee of events playing at the Beacon or Lincoln Center. 
The Upper West Side shines in my mind because it holds many parts of New York, in their purest forms, in one neighborhood. Quiet, brownstone-lined streets are uncompromised by the bustling main avenues of Broadway, Columbus and Amsterdam. A leisurely walk on a Sunday morning in loose-fit jeans and a sweater on Riverside Drive is as peaceful as anyone would like it to be, and 72nd and Broadway pulses with rush-hour energy that reminds me so many times why I'm thankful to go to a school that calls the city its campus.