Fordham's Expressions Dance Alliance Presents Fall Show
On Friday, Nov. 19 and Saturday, Nov. 20, Fordham's Expressions Dance Alliance performed its fall semester show "Fusion," which featured 12 dances performed by the company.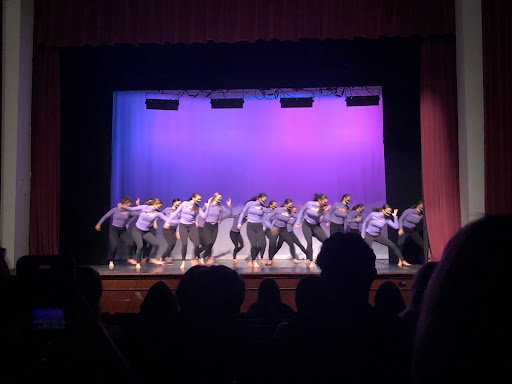 On Friday, Nov. 19 and Saturday, Nov. 20, Fordham's Expressions Dance Alliance performed its fall semester show "Fusion," which featured 12 dances performed by the company. According to the show program, the name — Fusion — is a celebration of coming together, of connectedness. In an interview with the Ram, Expressions' president Cameron Wolschina, FCRH '22, added, "This semester we're fusing our talents back in person, connecting everyone's individual styles in the show and creating a connected, fused art form that we've been missing for so long."
The show opened with a contemporary performance to "Latch" by Disclosure feat. Sam Smith. Eight dancers emerged wearing flashy, silver one-shouldered tops for the high-energy number, which pulled the audience into the show. The dance perfectly embodied the show's theme of fusion and connection, as it was originally supposed to be performed in the spring 2020 show, which was canceled due to the pandemic. The dance's choreographer Valentina Savarese, FCRH '22, wanted to bring back the dance, as she is graduating this semester and won't have another opportunity to choreograph for Expressions. 
The show was emceed by Julia Leahy, FCRH '23, Fordham's very own TikTok star, famous for her elaborate storytime videos. Leahy shared several stories throughout the show, which had the whole crowd laughing. The show also featured performances by Fordham's all-male a cappella group, The Ramblers, who sang "Rabid Animal" by Lake Street Drive and "Madness" by Muse, and the all-female a cappella group, The Satin Dolls, who sang "Sober" by Lorde and "Bad Romance" by Lady Gaga. Both groups' performances were excellent as always. 
Due to Fordham's indoor mask mandate, the dancers had to wear masks throughout the show, which presented a physical challenge to the dancers. Wolschina said that it can be tough to dance with them, as it is another complication they must think about. However, they've been dancing with masks since the start of the pandemic, so they have gotten used to it. 
One of the strongest dances of the show was to "Dream On" by Aerosmith, choreographed by Amy Lousararian, FCRH '22. The performance featured nine Expressions dancers decked out in Aerosmith shirts. Their movements were strong and confident, and they even included a lift, which was incredibly impressive. Partway through the performance, they let their hair down, a unique element of the choreography that elicited many cheers from the audience. 
A crowd favorite was "Hot Girlz," which featured a medley of songs from Cardi B, Nicki Minaj, Megan Thee Stallion and Beyonce. The hip-hop number was choreographed by Caitlin Schauffert, FCRH '23, and Mia Rico, FCRH '23. The dance's description in the program explained that they created the dance during Hurricane Ida when they decided to "wreak havoc by bringing hip hop back to Expressions." They added, "The tapping of water droplets from our ceiling down onto our rusty mac n' cheese pot reminded us of the famous lyrics once spoken by Cardi B: macaroni in a pot, that's a WAP, that's a WAP. We knew what had to be done." 
The number was high-energy, fun and definitely a crowd-pleaser. Wolschina said it was one of her favorite dances. "That one was just a lot of fun because the crowd was so into it," says Wolschina. "When people are screaming at us, that just makes the experience so much better, and that hypes us up and makes us want to give you more. So that dance was like a powerhouse moment that was really fun."
Another great performance was to "You Were Right" by Rüfüs Du Sol, choreographed by Lily Smith, FCRH '23. The group of four dancers allowed the audience to really appreciate their skill in power. They wore simple, white dresses and brought strength and passion to the stage. 
Both "The Chain" choreographed by Meg Luca, GSB '22, and "Viva la Vida," which was also choreographed by Savarese, brought unique and aesthetically pleasing choreography. In "The Chain," dancers broke into pairs where they did elaborate choreography, and the dancers in "Hide and Seek" wore red skirts, which moved with the dance in a beautiful wave. 
They closed the show with a performance to "All for Us" by Labyrinth and Zendaya, choreographed by Rico, which included the entire company. All the dancers moved across the stage with confidence and grace. Wolschina said, "I loved our company dance, which was the very last one, just because I love when we all get to dance together."
While the dancer's incredible skills made the performance look effortless, it was far from it. Wolschina explained that each dance requires an hour of practice per week, and dancers are typically in about six dances to make up half the show. Additionally, they have a mandatory practice on Sunday from 6-9 p.m., accumulating to over 100 hours of practice for each dancer. 
Expressions also went above and beyond with its advertisement. Steven Ruggerio, FCRH '22, took high-quality photos of the company, wearing bright colors and surrounded by bubbles that were plastered all over social media and on posters throughout campus. The advertising paid off, as there was a large turnout for the show. Ruggerio also filmed and edited a concept video for the club which can be found on its YouTube channel @FordhamExpressions. 
Overall, Expressions Presents: Fusion was a success. It was so wonderful to be back in a crowded auditorium watching live dance. Wolschina said that Expressions is such an important part of her college experience. She didn't make the team her first semester, and she thought it would be a good opportunity to branch out and try new things. Wolschina has been dancing since she was three, but when she ended up making the team second semester, she revitalized her love for dance: "I thought I would be okay without [dance], but then I joined Expressions, and I realized no, I can't live without dance at all … It's been such a nice stress reliever. It's been such a great group of friends. It's been such a fun way to continue this passion that I've had my entire life." Seeing Expressions perform in person again truly allowed the audience to see and experience that passion that the dancers have for the sport. 
Expressions will host an open masters class on Dec. 6 for all those interested, and it will perform another show in the spring semester.